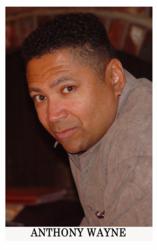 The SKYPE application is like being there
Los Angeles,Ca. (PRWEB) February 29, 2012
Music producer Anthony Wayne announced the official launch of anthonywayneonline.com/song demos, an online song demo service specifically tailored for those involved in "artist development". Music publishers, managers, agents and A&R Reps as well as songwriters, lyricist and up and coming recording artists from anywhere in the world can work with an L.A. music producer without having to live in the L.A. area. This is where the SKYPE application comes into play. SKYPE video conference calls are free and allows collaborating artist to work in real-time.
The new site features audio recordings produced by Anthony Wayne in the following genres: Pop, Hip Hop, Gospel, Alternative, Rock, Power Ballads, Dance, R+B, Blues, Country and Jazz.
"Songwriters and vocalist can actually send in an mp3 of acappella vocal and we can put a band behind the vocal" Says Anthony Wayne. "One songwriter sang a melody on voicemail on SKYPE and we produced a song demo using that." He continued. "We have worked with artists as far away as Hanoi, Vietnam. The SKYPE application is like being there." Lyricists (for a fee) can also have their lyrics put to music.
Recent projects include (Hip Hop) Lyricist James Cook "Inner City Girl", (http://www.youtube.com/watch?v=l40yEokYg5s), which received a 4 star rating in the Loggins Promotions Radio test. Radio stations participating in the test were commercially reporting radio stations to NMW/STS, FMQB, Billboard/R&R, and Music Row.
For more information visit http://www.anthonywayneonline.com/song%20demos.html
Anthony Wayne is a professional musician with over 20 years of experience producing recordings and directing bands. In addition to being a Rhombus Records recording artist (Ambient Tree), a talented bassist, vocalist and songwriter in his own right, he has also been music director aboard the "Love Boat" (Princess Cruises) as well Cunard's prestigious Queen Mary 2. Most recently he performed at the 2012 NAMM show with drummer Rick Latham (Juice Newton). He has also worked or performed with names like Tupac Shakur, Snoop Dog, Randy Newman, Jerry Lee Lewis, Charo and many others.
###