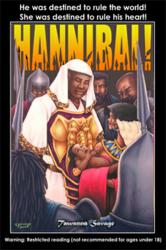 Hannibal of Carthage
(PRWEB) February 26, 2012
Alliance, Silvaticus & Plymouth Corporation author, Tawanna Savage, has bee enjoying a supportive following of the HANNIBAL series over many years. This trilogy of books depicts in grand detail, a chronicling of the great general's rise to power and ensuing historical battle with Rome. The author's series is in a limited release prior to beginning the final touches for the movie screenplay.
During an interview in the upcoming February 28th release of OnyxOne Magazine, Ms. Savage told the reporter that her dream team of directors would be Denzel Washington, Spike Lee and Antoine Fuqua with the film enjoying the status as an independent film.
"I believe that it takes Men of Color with vision, talent, direction and most of all great pride and respect for their African heritage to:
1) tell the story of the Great Hannibal of Carthage without deviating under pressures from Hollywood to make the film a political financially correct motion picture
2) not show the people of Hannibal's time of an ethnic persuasion that is not aboriginal to its origin and
3) stay focus and portray this great warrior as the great strategist, conqueror and intelligent man he really was.
For more on the author go to http://www.facebook.com/hannibaltrilogy
It is very important to me that the cast in this movie be true to the natives of North Africa, Egypt and the fictitious Athaenes by depicting the inhabitants as wearing their true, beautiful coffee brown and black skins which blanketed their bodies centuries before Christ existed."
ASPC commissioned a video release depicting King General Hannibal's new Queen, Hamani, providing a beautiful celebratory nuptial dance in honor of the king while highlighting one of the major events portrayed in Hannibal, Book I as the beginning of Hannibal's rise to full power.
The author believes that the financial support for such a film is completely sustainable in that African Americans are the biggest consumers and purchasers of movie tickets in America and are the number one reason our ethnic films (as well as others) are successful at the box office.
In an article by Karen Grigsby Bates titled Minorities At The Movies Fill Seats, But Not Screens (published January 28, 2012 by NPR), Ms. Bates highlights the discrepancy between representation and financial support experienced by the African American community.
According to an interview with Marlene Towns, a professor at the University of Southern California's Marshall School of Business, "We (African Americans) see movies 21 percent more often than the general market, and we're 22 percent more likely to have multiple repeat dealings of a movie. Simply put, blacks spend more money on movies. We consume what the mainstream consumes, as African-Americans, but we also consume things that are particular to us as a segment."
http://www.npr.org/2011/06/24/137374242/minorities-at-the-movies-fill-seats-but-not-screens
For more information on this upcoming major event, go to http://www.kinggeneralhannibal.com.
###