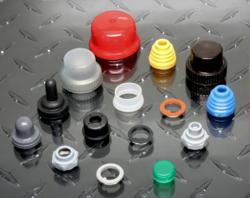 Newark, NJ (PRWEB) February 28, 2012
ZaGO is proud to announce their new Switch Boots Online Catalog which allows buyers and engineers to search all switch sealing products with ease. With just a few clicks this new E-Catalog will help customers find a seal to match their exact switch and provide any technical information related to the seal that is needed.
ZaGO manufactures toggle, push button and rotary switch boots in addition to their line of Crystal Seals for rockers and tactile switches, circuit breakers and full panels. All sealing products are manufactured in their facility in Newark, NJ and the engineering department is always available to help with any questions or design challenges customers might have.
Today, major manufacturers of rocker, push button, toggle and tactile switches, and circuit breakers are increasingly choosing ZaGO's waterproof sealing switch boots not just for their high quality and cost competitiveness, but also because ZaGO's switch covers have an excellent "feel" upon actuation. They are durable and dependable, and can be ordered crystal clear, or in a wide variety of colors.
ZaGO Manufacturing Company has been has been producing sealing products for nearly twenty years in Newark, New Jersey. Operating out of a state-of-the-art facility in south Newark in close proximity to Newark Airport, the Port of Newark and all of New Jersey's major transportation and mass transit routes, ZaGO makes daily shipments throughout the United States, Central and South America, Mexico, Canada, Europe and Asia.
###