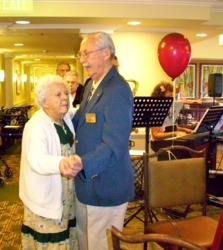 We do still manage to have fun.
Seattle, WA (PRWEB) February 26, 2012
The party is on, Sunday, February 26th from 1pm – 3pm. Joe and Marion Epler, husband and wife, celebrate their 101st birthdays together at Ida Culver House Broadview, 12505 Greenwood Avenue North, Seattle WA 98133.
The Eplers, their family and more than 100 friends plan to live it up with gourmet hors d'oeuvres, wine and birthday cake. Since the Eplers love to dance, a three-piece jazz ensemble will keep the party swinging. Story visuals include:

Dancing, decorations and fun
Old photos and memorabilia of life in Seattle
Special appearance by Seattle firefighters to recognize Joe Epler's service
Both Joe and Marion were born in February 1911, Joe on February 18 and Marion on February 27. They met 81 years ago in Seattle and remained friends over the years. Joe and Marion married about 20 yeas ago. It is a second marriage for both; each lost a spouse.
"We don't move as fast as we used to but we do manage to have fun," says Joe Epler, a retired fire fighter who also owned a small business and served on the Seattle School Board. "We are headed down to Spring Training again to cheer on the Mariners."
Together, Joe and Marion stay active and involved. They are avid Mariners fans that travel to Arizona for Spring Training in March every year. For their 90th birthday they took a trip around the world. During the holidays the Eplers volunteer for the Salvation Army by ringing the bell at a kettle inside Northgate Mall.
Ida Culver House Broadview is part of Era Living, a private, Seattle-based company of eight premier retirement communities. Ida Culver House Broadview offers the perfect blend of village charm and urban lifestyle set in one of the most desirable retirement communities anywhere.
###