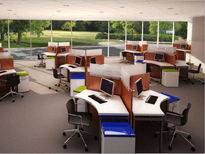 We have thousands of properties listed on our site, from meeting rooms and day offices to the best long term executive suites globally.
(PRWEB) February 28, 2012
Research data from the last 18 months has shown remarkable strengthening in flexible work policies, for global corporations as much as for their smaller counterparts. As partner Scott Warner said "Companies across the US have learnt lessons from the last 4 years and work life balance and workforce efficiency have now become a far higher priority than having large inflexible real estate portfolios". Your Office Agent are now setting up another new no client fee, Global day office and meeting room team who can give customers the expertise they need to save money, become more agile with short stay working and improve efficiencies.
There is a wide-ranging body of research data evidencing the mainstream trend towards flexible working, and underpinning accelerating demand for flexible workspace, including:-

60% of businesses state that flexible working costs less than fixed office working, saving tens of thousands of dollars per employee per year
41% also say that flexible working increases staff productivity
80% of companies state that flexible working policies attract and retain skilled staff
60% of employees say flexible working creates a better work-life balance
81% of all companies now offer part of their workforce some form of flexible working
Today there are over 1bn mobile workers, predicted to rise rapidly to 1.2bn by 2013
In addition to searching for space for customers Your Office Agent also analyze full property portfolios with a view to drastically bring down costs. Scott added that he and his team are currently working with multiple corporations, who project to save hundreds of thousands of dollars this year alone by allowing his team to find their ideal flexible office or meeting room. Its smart to look at all the workplace options available to you and Your Office Agent are the leading experts in this field with access to the best space providers globally. Contact Your Office Agent on 800 600 0881 to get the best deal on meeting rooms and office space globally or just to sense check your current solutions at contact(at)yourofficeagent(dot)com or http://www.yourofficeagent.com
###