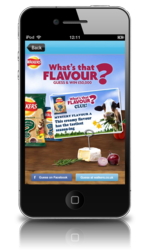 TvTak is the fastest way to tell your friend what you are watching
London (PRWEB UK) 28 February 2012
Today Walkers launches the world's first "Point & Win" second-screen interactive campaign using TvTak's innovative video content recognition platform; the campaign will run for 3 weeks. In order to engage with the campaign's ad, viewers can download the TvTak App from the UK Apple store.
Point & Win – One-click to get a clue for one of the new mystery flavours
Walkers have launched three new mystery flavours inspired by ingredients and recipes loved by the Great British public. The campaign is designed to get the whole nation guessing the flavours names and is supported by heavy weight TV, digital and below the line activity. If consumers guess correctly they could be in with a chance of winning £50,000.
TvTak offers a new way for consumers to engage with the campaign when they see the "What's That Flavour?" commercial on TV or YouTube, to get an exclusive clue. From the clue consumers can click through to the website or facebook app to sign up and place their guess viewers enter in the contest in one-click and guess the mystery flavour.
TvTak smart video recognition platform.
TvTak is the world's first Automatic Video Recognition platform that allows a viewer to point a smartphone or tablet at the television and instantly identify what TV program or commercial is playing. Viewers get instant gratification, with a customized "TV Card" containing the name of the show as well as other branded opportunities.
Watching TV commercials becomes more fun and rewarding
With TvTak, brands can sponsor contests where viewers "catch" their commercials to unlock new content, register as fans, instantly enter into sweepstakes, receive valuable coupons or collect loyalty cards to get rewards. Viewers get rewarded while watching the sponsor's TV ads.
PepsiCo10
TvTak is one of the ten winners of the inaugural PepsiCo10 Europe competition which aims to identify the best up and coming start-ups with the opportunity to work with PepsiCo in a pilot project. Walkers selected TvTak for a pilot marketing program to complement their latest TV campaign.
See Walkers commercials on Walkers's YouTube channel: http://www.youtube.com/user/walkerscrisps
See Demo on YouTube http://www.youtube.com/watch?v=U4_N__xzdY8
TvTak App can be downloaded in the UK Apple App Store - http://itunes.apple.com/gb/app/tvtak-point-and-win/id503336657?ls=1&mt=8
###