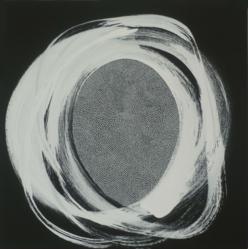 London, UK (PRWEB UK) 28 February 2012
Jam Tomorrow
Kathryn Place, Matthew Evans, Gemma Cossey,
Deepa Chudasama, Clive A Brandon, Paul Snowdon
Private View Thursday 8 March 6-9pm
SLAM Friday 30th March 6-9pm
Exhibition runs Friday 9 March to Sunday 1 April 2012.
Open Thursdays to Sundays, 12-5pm
A.P.T Gallery are pleased to present Jam Tomorrow. Six artists reposition themselves to establish a pathway forward for abstraction, modernism and the concept of a future. In an age of austerity where the promises of tomorrow are constantly eroded, this exhibition is an attempt to counter this through a forward looking form of painting, collage and making. The title Jam Tomorrow has multiple meanings and refers to the possibilities of the artworks' development as well the artists' personal progression.
Exhibiting together for the first time, the artists show new and recent paintings, collages, mixed media work and sculptures. Organised and curated by the participating artists, linking strands are visible within and between their practice; utopian ideals, modernist discourse, nostalgia, memory and the passing of time, architectural construction, abstraction, minimalism and painstaking craft. In Jam Tomorrow the six artists make a valuable and relevant contribution to the revisiting and reinventing of, and the dialogue about, the languages of abstraction and modernism.
Working mainly in painting and drawing and with careful deliberation, Matthew Evans employs basic means to construct areas of activity for consideration and contemplation.
Gemma Cossey is showing a series of new and recent paintings exploring ideas of process, gesture, scale and the relationship of parts to the whole. Employing a range of mark making to create different spatial depths and areas of movement, the work poses questions about and revisits languages of abstraction and minimalism.
Clive Brandon presents a new group of works that continue his exploration of the legacy of modernism and post war optimism. The architectonic paintings, collages and constructed objects oscillate between past, present and future and contrast the everyday with the utopian dreams of the past.
Deepa Chudasama takes the concept of utilitarian modernism to create pieces which are minimalist in appearance with an underlying nod to craft and non-Western heritage. The use of mass-produced plastic building components such as cable ties are alienated from their original purpose and applied in a craft-like manner.
The paintings of Paul Snowdon emerge out of Modernism's idea of the future. Situated in an industrial non-space and exploring a fictionalised infrastructure, these new works present to us a hauntological vision of the unrealised utopia we now live in. Thus encouraging us to reflect upon the modern world and how we arrived here.
As we have asked and discussed whether the camera lies, we might also ask how true a memory is when it is intermittently re-informed by an image of it. Kathryn Place's work is concerned with the instant captured in a family photograph, but also the act of looking over time with hindsight. The reinterpretation of the same photograph is a response to this and what a viewer brings to an image. The artist is interested in the reasons why we look and how this informs our perception of what we see. Dissecting personal images has been at times illuminating, cathartic and joyous but the main intentions are to make links with the viewer's memories and childhoods and in many cases the inevitable similarities of a posed scenario.
The exhibition is not to be read, however, as a nostalgic looking back at past era's or styles but a radical reinvention and reinterpretation of the ideals that pushed forward art and that continues to inspire and drive these artists' work.
This group of emerging and mid-career artists and art educators live and work in London. Between them, the artists have exhibited widely in both solo and group shows in London and across the UK and in Switzerland, France, Germany, India and Ecuador. Their work has been selected for exhibitions such as the Crash Open Salon and Deptford X and they take part in open studio events and projects such as the Hackney Wicked Festival and ArtNW10.
Deepa Chudasama is represented by The Agency gallery and Clive A Brandon by Galerie Hubert Baechler in Zurich.
Jam Tomorrow
Meaning: Some pleasant event in the future, which is never likely to materialize.
Origin: Derives from Lewis Carroll's Through the Looking Glass and What Alice Found There, 1871, in which the White Queen offers Alice 'jam to-morrow'.
Socialists often used to ridicule the capitalist system as offering the empty promise of 'Jam tomorrow'. A quotation attributed to the labour politician Tony Benn in 1969 was "Some of the jam we thought was for tomorrow, we've already eaten."
For further information and press pack please contact Gemma Cossey on 07775728907 or gemmacossey(at)hotmail(dot)com
Images and info available at http://jamtomorrow6.tumblr.com
APT Gallery, Harold Wharf, 6 Creekside
Deptford, London
SE8 4SA
Tel 020 8694 8344
http://www.aptstudios.org
# # #