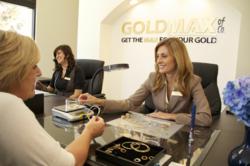 It is GoldMax's policy not to pressure anyone to sell their belongings because for some people there can be a strong sentimental value to a particular item.
Schaumburg, IL (PRWEB) February 27, 2012
GoldMax USA, the leader in gold, silver, antiques, and collectibles buying, continues its expansion by entering new markets across the U.S. and expanding within its existing markets. The entry into the states of Minnesota and Texas marks GoldMax's latest expansion. In Minnesota, GoldMax opened a store this week in Roseville located at 10 Rosedale Road in the Roseville Center. GoldMax also plans to open a store in Bloomington at the Mall of America, 8100 24th Avenue South. The chain anticipates opening three stores in the Dallas area in the next 60 days in the cities of Arlington, Plano and Richardson. By yearend, GoldMax plans to open as many as 100 new stores in the U.S. in 2012, including 5-10 stores in the state of Minnesota and 30 stores in the Dallas metro area.
Recently in New Lenox, Illinois, Patsy, who had previously sold some of her belongings at her local GoldMax store, returned with her daughter to sell more jewelry. Patsy, age 70, had been diagnosed with bone cancer which had spread, and wanted to sell her jewelry because her daughter did not want the items. Patsy's daughter also brought in some items and completed her transaction first. The daughter was very happy with the amount that she received and left the store to deposit the money in the bank next door while Patsy was conducting her business.
As Patsy's jewelry was being evaluated by Christine Rose, the GoldMax buyer, Patsy would relay each item's history to her. According to Rose, it seemed that Patsy's deceased husband had a lot of friends that Patsy would assist when needed. Since Patsy would not accept any payment, Patsy would receive jewelry as a thank you gift, typically a ring. "Patsy would share her special memories about each ring," said Rose. "However, there was one particular ring that Patsy was hesitant to sell."
Rose witnessed the anxiety that selling this particular ring was causing Patsy and advised her to keep the ring. "I told her that she could always bring the ring back another time, if she changed her mind but I didn't want her to regret selling the ring now," Rose said. "Patsy and her daughter both left feeling very happy with their transactions and promised to return soon."
Rose added, "GoldMax is committed to providing the utmost experience during the evaluation and selling process and utilizes individual desks to conduct the transactions in privacy. It is GoldMax's policy not to pressure anyone to sell their belongings because for some people there can be a strong sentimental value to a particular item."
GoldMax will purchase gold (any karat), silver, platinum, necklaces, bracelets, rings, earrings, charms, watches, broken jewelry, coins, sterling silver flatware, tea sets, and candlesticks. GoldMax has built a solid reputation for paying fair market value for gold, jewelry and other collectibles.
About GoldMax
With more than 200 stores located from Los Angeles to Tampa Bay, GoldMax operates the largest chain of stores specializing in buying gold and precious metals from consumers. Last year, GoldMax pumped more than $75 million into the local economy and opened more than 70 stores across the U.S. GoldMax plans to open 100 new stores in 2012, including stores in the Dallas-Ft. Worth market, a new market for GoldMax. GoldMax recently appointed Robin Leach, former host of Lifestyles of the Rich and Famous, to serve as the company spokesperson. Leach doesn't accept payment for his endorsement of GoldMax, a rare event in the business of high-profile celebrity endorsements. GoldMax donates generously to his favorite charity, "Keep Memory Alive" (http://www.keepmemoryalive.org), which is committed to the education and research of a cure for Alzheimer's, Parkinson's, Huntington's and ALS. Leach has been instrumental in the success of the GoldMax campaign, "Turn your jewelry box into your own personal ATM at GoldMax," which is currently running in major markets across the country, on YouTube and the company's website http://www.goldmaxusa.com.
###