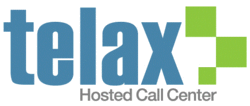 We know how important communication is for global organizations, governments, and especially the men and women in the armed forces
Toronto, Ontario (PRWEB) February 27, 2012
Telax Hosted Call Center, North America's leader in cloud-based contact center software for government, today announced that Northrop Grumman has renewed a major service contract for another term. Northrop Grumman Technical Services, Inc. (NGTSI), a subsidiary of Northrop Grumman, uses the Telax hosted contact center solution to support its round-the-clock service desk.
Located in multiple Western U.S. sites and looking to expand into new locations, the NGTSI service desk supports incoming voice calls as well as web chats from contractors, government employees, and military staff from around the world. Its contact center is operational 24 hours a day, seven days a week, and due to its mission critical nature requires a proven, reliable solution.
Telax holds a GSA IT Schedule 70 contract, making the public-sector focused technology leader an ideal partner for NGTSI. Their extensive experience working with organizations that require uninterrupted service every hour of every day was a key factor in Northrop's decision to renew the contract.
"We know how important communication is for global organizations, governments, and especially the men and women in the armed forces," said Telax President Mario Perez. "We're very proud to be a part of that communication support."
Telax was first awarded the contract by NGTSI in 2009 – it has been renewed every year since. The advanced functionality of Telax Hosted Call Center gives NGTSI the ability to offer its clients a cutting-edge customer care experience. NGTSI also benefits from the flexibility to scale its contact center seamlessly and to have agents located anywhere in the world, without the need for costly and cumbersome hardware.
About Telax Hosted Call Center:
Telax Hosted Call Center is North America's leader in hosted call center solutions. Based in Toronto, Canada, Telax has been providing cloud-based business solutions to prominent public and private sector organizations since 1999. The simplicity delivered by Telax services enables clients like Best Buy, Northrop Grumman, Johnson & Johnson, CI Investments, the Globalive Group of Companies, Health Canada and the GSA, to reduce costs and improve efficiency, so that they can do more with their most critical resource: people. For more information, visit http://www.telax.com. For the latest Telax news, visit http://www.telax.com/category/news.
###