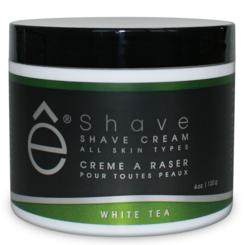 The new and improved formula is free of sulfates, parabens, SLS, SLES and synthetic dyes, but loaded with super concentrated natural botanicals.
New York, New York (PRWEB) February 28, 2012
White Tea is among the most potent aging antidotes. No wonder it has been one of eShave's most popular shaving products. Keeping to its commitment of never compromising quality, eShave, the expert's in teaching men how to shave, has reformulated its White Tea Shave Cream. The new and improved formula is free of sulfates, parabens, SLS, SLES and synthetic dyes, but still has the super concentrated rich, natural botanicals that has made it so popular, including: lemon, orange, tarragon, star anise, Litsea Cubeba, and peppermint.
Each year, eShave re-evaluates their shaving products to ensure they are offering their customers the highest-quality product available on the market. Seeking only natural ingredients, free of harsh chemicals and unnecessary ingredients, the new formulation of eShave's White Tea Shave Cream is an example of that commitment.
As part of the reformulation process, eShave's Danielle Malka, President/Founder of eShave, went back to the lab and revisited the brand's blending procedures. With her own unique twist, Malka has once again, raised the bar by changing the way the shaving cream is made. The new cream is richer, lighter, and fluffier. Just a dab is all that is needed.
"At eShave, we've always been committed to the philosophy that less is more," said Malka. "We don't add artificial ingredients to foam-up our products and a little bit of our shave cream goes a long way. Same is true for our packaging. We are proud of our ongoing contribution to the planet and will not compromise with unnecessary packaging. Our products are still merchandised in the jar and our customers have commented that they appreciate the fact that our products are good for them and good for the earth."
The highly popular and delicious smelling White Tea Shave Cream is concentrated with essential oils, each delivering its own therapeutic properties for the skin:

Orange: antioxidant; prevents growth of bacteria
Tarragon: antibacterial; antimicrobial, improves blood circulation
Lemon: antiseptic and anti-stringent benefits
Litsea Cubeba: fights acne and minimizes greasy skin
Star Anise: fights bacteria and prevents the formation of ingrown hairs
Peppermint: promotes healthy, clear skin
For those who are already fans of the White Tea Shave Cream, they are going to love the new and improved benefits. For best results, use with a shaving brush.
Retail Price: $22 (4oz jar)
Available at select retailers around the world and http://www.eshave.com
Editors Note: Hi-res image and samples are available upon request.
About eShave
eShave, defined by their unique style and unparalleled luxury, is known around the globe for their beautiful and sophisticated collection of shaving essentials. Since 1996, the expert's in men's shaving, have been teaching men how to shave. Based on the principals of fine jewelry making, eShave creates one-of-a-kind, artistic tools and accessories. eShave continues to be the only company that hand-sculpts its own designs to appeal to the discerning tastes of aesthetically discriminating and design conscious men & women. Available online at eShave.com, eShave New York boutiques at Rockefeller Center and World Financial Center, and select upscale retailers/spas worldwide. 1-800-94-SHAVE
###