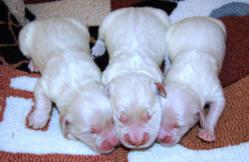 This is the English Cream litter we've been waiting for, all of the pups are just white and going to be gorgeous
Moorpark, CA (PRWEB) February 28, 2012
It was a lovely Valentine's Day when the lovely GldnMeadows Yesturday Today and Tomorrow UCICB, aka Sophie, and GldnMeadowsds Ellisar Telcontar UCICB, aka Aragorn, had their litter of English Cream Golden Retrievers. The 6 girls and 3 boys were born healthy and strong, and Sophie is reported to be doing well.
"This is the English Cream litter we've been waiting for, all of the pups are just white and going to be gorgeous." - Barbara Hoke, Owner/Manager of Golden Meadows Kennel
English Cream golden Retrievers are also refereed to as British style. The characteristics of this style are a wider shorter muzzle, their forehead is blockier, and they tend to have shorter legs with a slightly deeper chest. Golden Meadows Retrievers have been raising English Cream Golden Retrievers for 10 years and have even imported some from the Czech Republic.
"We imported lines directly from Europe to help increase the diversity and give us the solid looks of the English Creams" -Tim Hoke, Owner/Manager of Golden Meadows Kennel
Sophie and Aragorn's litter is available for purchase and you can visit goldenmeadowsretrivers.com to read more about Golden Meadows Retrievers and be able to reserve a pup from this litter.
Golden Meadows is a high end breeding kennel that specializes in trained dogs. They breed sound and healthy golden retrievers, many of which are trained and then go into therapy or service work. Their program is over 20 years old and they provide the best in care for their golden retriever puppies. Located in Beautiful back hills of Moorpark California, Golden Meadows shows off their gorgeous dogs at AKC and IABCA conformation shows. All of their dogs come from excellent pedigrees and have great temperaments. They even have the highly desired English Creams Golden Retrievers.
Being active members in their community you may bump into a Golden Meadows' golden retriever in training while out and about in the Ventura County area or at the pet friendly Simi Valley Town Center Mall.
###