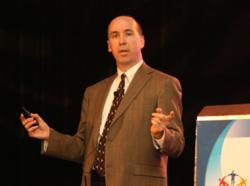 No industry, sector or corner of the world is immune to the coming changes.
New York, NY (PRWEB) February 29, 2012
Following on the heels of his keynote presentation to executives of PepsiCo in Chennai, India, popular keynote speaker, renowned global futurist, technology forecaster and best-selling author, Jack Uldrich has been selected to deliver a series of keynote speeches around the world in the month of March. On March 6th, Uldrich will travel to New York City to address the Swedish-American Chamber of Commerce. The title of his talk is Unlearning the Future. On March 23rd, he will be in Hong Kong to address emerging technologies at SingTel's CIO Days. On March 28, Uldrich will deliver a similar keynote to the World President Organization in St. Louis, and the final day of the month will find Uldrich in Toronto speaking to the Institute of Agrologists on "why the future of agriculture will require unlearning." In June, Uldrich is scheduled to travel to Lucerne, Switzerland to keynote Cham Paper's 2nd Annual Global Inspiration Days.
The material presented in the various keynotes will be based on a combination of Uldrich's best-selling book, "Jump the Curve; 50 Essential Strategies to Help Your Company Stay Ahead of Emerging Technologies" and his latest book, "Higher Unlearning: 39 Post Requisite Lessons for Achieving a Successful Future." The interactive speeches are designed to provide business, government, not-for-profit and community leaders a solid and thought-provoking foundation upon which to begin creating their own future. An overview of some of Uldrich's ideas can be found in this short video clip, Why the Future of Healthcare Will Require Unlearning, which Uldrich recently delivered to executives at United Healthcare.
Uldrich will also provide an overview of how these technological changes are upending long-standing business models and discuss why these future trends will require unlearning. Uldrich, who has been hailed as "America's Chief Unlearning Officer," will conclude his talk by reviewing the negative consequences of not embracing the concept of "unlearning." Throughout his talk, Uldrich will use vivid analogies and memorable stories, drawn from a wide spectrum of industries, to ensure his message of unlearning "sticks" with his audience. A sample of some his ideas on the future can be found in this chapter, In the Future, It's All a Game, from his forthcoming book, "Foresight 2020: A Futurist Looks Ahead to Ten Trends That Will Shape the Coming Decade."
In the past year, Uldrich has addressed hundreds of business groups and trade associations around the world, including delivering customized keynote presentations to The Chief Learning Officers Summit, PepsiCo, United Healthcare, Cisco, IBM, PepsiCo, WiPro, and General Electric.
Parties interested in learning more about Jack Uldrich, his books, his daily blog or his speaking availability are encouraged to visit his website. Media wishing to know more about the event or interviewing Jack Uldrich can contact him directly at 612-267-1212 or jack(at)schoolofunlearning(dot)com.
Uldrich is a renowned global futurist, best-selling author, editor of the monthly newsletter, The Exponential Executive, and host of the award-winning website, http://www.jumpthecurve.net. He is currently represented by a number of professional speakers' bureaus, including Leading Authorities and Executive Speakers Bureau.
###