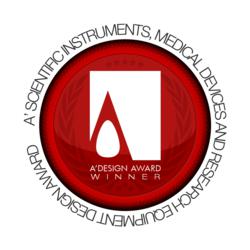 Best Scientific Instruments will be Awarded
Como, Italy (PRWEB) February 27, 2012
Today, A' Design Award & Competitions announced a new design award category: Scientific Instruments, Medical Devices and Research Equipment Design Award, which is a niche design competition open to submissions of highly engineered and technical products; scientific instruments, research equipment and medical devices.
Scientific instrument and medical device producers worldwide are invited to take part in the competition by applying online at adesignaward.com. Submitted products will be evaluated by a specialized jury composed of a panel of academics, business professionals and focus group of end-users.
Entries to Scientific Instruments, Medical Devices and Research Equipment Design Award will be judged on aspects such as innovation content, ergonomics, social responsibility, aesthetical aspects, packaging design and product documentation. Awarding criteria and the award sub-categories are further explained at adesignaward.com
The ultimate goal of the award is to attract the attention of the media to award winning products through advertising and publicity opportunities. Winning entries will receive free communication and publication services from A' Design Award in addition to the award trophy, certificate, badges, logo and other services that are provided to award winners.
Unlike any other awards in scientific, medical and research equipment sectors, winners are not obliged to make any further fees for claiming the award, and winners' benefits as listed in adesignaward.com will be provided free of charge to all winners. Prospective participants can apply online at adesignaward.com by paying the single time nomination fee of 375 Euros.
About the A' Design Award: The A' Design Award & Competition is an annual international design award and competition aiming to highlight design oriented services, products and offerings. A' Award present its winners with publication and advertising opportunities. Further information regarding the award can be accessed from whatisa designaward.com.
###