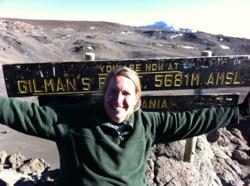 It is amazing what our bodies can do," Whitely said. "Anything can be achieved one step at a time.
Summit, NJ (PRWEB) February 28, 2012
Kara Richardson Whitely, an adventurer struggling with obesity, is offering DVDs, premiere tickets and other perks for her Big Fat Mountain documentary, which is about her trek up Mount Kilimanjaro and path to fitness, before the project is even completed.
Whitely, 37, of Summit, NJ, is the midst of a Kickstarter campaign, using the online platform to raise enough funds to complete her documentary, which follows her journey up Africa's highest peak as a 300-pound woman -- something that has to be seen to be believed. In fact, even the porters bet against her success on the 19,343-foot mountain.
Whitely, who walks in the shoes of the two-thirds of Americans who are overweight or obese, said, "I'm not your average adventurer but I hope to complete Big Fat Mountain and motivate others to get moving."
It makes sense to enlist Kickstarter to make her documentary dream come true. Kickstarter has generated more than $100 million in pledges for more than 10,000 projects. And it keeps getting bigger. Video game creator Tim Schafer raised more than $1 million in one day for his adventure game, Double Fine. Now Schafer's tally has surged beyond $2 million making it one of three Kickstarter projects that have surpassed the $1 million mark in pledges.
The clock is ticking for Whitely on Kickstarter's all-or-nothing platform. She has two weeks left to convince people to back Big Fat Mountain about her uphill battle against obesity. If she doesn't make her $25,000 goal by March 15 -- 30 days after her campaign began -- she won't get a dime, not even funds that have already been pledged toward her project.
"I'm all in," said Whitely, who so far has funded the project of her own savings, which has amounted in more than 20 hours of professional HD footage, ready to weave into an inspirational and empowering documentary. She is seeking Kickstarter backers for the remaining $25,000 to complete Big Fat Mountain with editing, graphics, music licensing and other finishing expenses. She is reaching out to friends, family, neighbors, those who struggle with their weight, outdoors enthusiasts, inspiration junkies and more via social media channels to make her goal.
Big Fat Mountain backers get a piece of the action. There are opportunities to have their name in the film credits, get copies of the final DVD, special screening tickets in Washington, DC, Chicago or New Jersey all the way up – a hike and healthy picnic or inspirational talk with Whitely and top billing as an executive producer, which would grant access to film festival parties and special events.
So many people have been encouraging and excited about her story that she thought she could enlist enough goodwill – in the form of project financial backers -- on Kickstarter to complete the project. Whitely is author of Fat Woman on the Mountain, a blogger for REI, a professional public speaker who draws record crowds at events.
Her intention for the finished documentary project is to encourage others to be active with their bodies and in their communities. Her Kilimanjaro hikes have raised thousands for Global Alliance for Africa's AIDS orphans programs.
"It is amazing what our bodies can do," Whitely said. "Anything can be achieved one step at a time."
Big Fat Mountain's Executive Director Kara Richardson Whitely has written for daily newspapers and magazines such as Self, Every Day with Rachael Ray and Runner's World. She has been featured in Self, Redbook and American Hiker magazines as well as numerous television, radio and online outlets. She is now a content developer for Monaco Lange, a top branding agency in New York City.
###