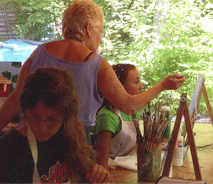 A 2009 study by the U.S. Department of Education has shown that 'on average, students in online learning conditions performed better than those receiving face-to-face instruction.'
Oakham, MA (PRWEB) February 26, 2012
Art is 4 Every1 teaches artists a unique method of acrylic painting that allows students of all ages and capabilities to create impressive paintings with ease. Artists throughout Massachusetts have taken Griffith's Certified Instructor Course and are now out in the field teaching their own students that art really is for everyone.
For the better part of the last 3 decades Griffith has been teaching her method of acrylic painting in nursing homes, chronic care facilities, senior centers, children's camps and her own home studio. Long term healthcare facilities, families, and children's recreational programs seek out this unusual art class for the powerful therapeutic and confidence building effects it provides.
Artists from around the world reach out to Griffith frequently looking for ways to learn what she does, but are unable to travel to the locations she physically teaches at. This new online training program will bring her instructor course right to their desktop. The program will utilize video, audio, and webinar instruction to ensure that students receive the same high quality training that Griffith has been able to deliver in person. A 2009 study by the U.S. Department of Education has shown that "on average, students in online learning conditions performed better than those receiving face-to-face instruction."
While instructor training will continue to be presented throughout New England in the classroom setting, Griffith also travels upon request to deliver her training to groups of 8 artists or more. Now with an internet based training program more artists will be able to take advantage of Griffith's instructor training and learn how they too can create a dependable stream of income sharing the gift of art with others.
More information can be found at http://www.artis4every1.com or by calling 508 882-3947.
About Art is 4 Every 1
Art is 4 Every 1, an educational program for visual artists, trains artists as instructors of a unique acrylic painting method. The instruction they receive will prepare them to help students of all capabilities produce impressive paintings with ease. The Art is 4 Every 1 method is time proven and has been refined since introduction in 1985.
# # #