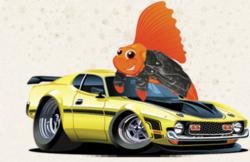 The way the Oscars is being covered this year is more innovative than any other year.
Los Angeles, CA (PRWEB) February 27, 2012
RoadFish.com men's lifestyle and finance magazine today weighed in on the buzz surrounding the Oscars and the estimated huge night for Twitter and other social media outlets. RoadFish.com feels that the measures taken for the celebrity awards ceremony could shape the future of social media in a big way, and feels that tonight's Oscars will be more historic than any of the previous years. The amount of financial gain from increased social media is unknown at this time.
Katherine Rosman of the Wall Street Journal reported that the Oscars is working hard to amp up social media for this year's big event in order to influence the growing trend of viewers expressing their opinions and thoughts via outlets such as Facebook and Twitter, in live time as they watch the awards ceremony. For example, ABC, who is broadcasting the awards is having at least two people tweeting about the backstage goings-on. The preshow red-carpet hosts will post their interviews with celebs on Twitter, and a new Facebook feature sponsored by the Academy of Motion Picture Arts and Sciences allows users pick their guesses as to which actors and films will win and share it with friends. An Oscars app will be streaming exclusive video from 20 specialized cameras stationed throughout the theater, designed to offer viewers inside video that they can't get on any TV broadcast.
Melissa Bell and Sarah Anne Hughes of the Washington Post reports that the Post will offer a live blog, starting at 5pm EST. The article claims that readers will get "up-to-the-minute" feed directly from reporters Jen Chaney and Monica Hesse in Los Angeles, who will be posting live updates from the red carpet and the press room. Other recognizable names will be updating and weighing in on the Oscars frequently, and users are urged to hit refresh often to get the latest news and to leave feedback by including the Post in their Tweet.
RoadFish.com's Senior staff writer is quoted as saying, "It's no surprise that the Oscars is surrounded by outlets who are offering the latest and hottest gossip and news. But the tide is changing from TV broadcasts to live web feeds, blogs, and updates on Twitter and Facebook. I've noticed a huge change even from the 2011 Oscars, and I think that this year's Oscars could be a huge milestone for social media. The way the Oscars is being covered this year is more innovative than any other year."
The above-mentioned Wall Street Journal article stated that media executives do not yet possess the ability to measure the connection between the amount of social media comments to viewership ratings. Albert Cheng, executive vice president for digital media of Disney-ABC Television Group stated, "We do know that social media drives engagement and can help sustain viewers' interest in what they're watching."
RoadFish.com called this year's Oscars "revolutionary, pioneering the way for more major social media influence in the years to come."
The 2011 Oscars earned 966,000 social media comments, and during the live awards broadcast 87% of all social media commentary was about the Academy Awards. This year, Twitter Inc. has hired several well-known television and music personalities, including Eva Longoria and Randy Jackson, to Tweet throughout the awards ceremony.
About Roadfish
RoadFish.com is an online men's lifestyle and finance magazine targeted toward men in their 30s and 40s that have already attained a moderate level of success in life, and are striving toward more. It goes over current events of interest to this group, such things as exciting adventures, consumer interests, politics, and dating tips, as well as ways to make more and save more money. It is a publication owned by Purpose Inc.
###