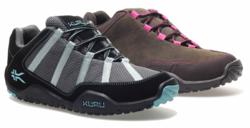 (PRWEB) February 29, 2012
Research has shown that more than 50% of Americans will abandon their new year's resolution within few months of the year. One of the most common resolutions each year is the desire to lose weight and get in shape. Experts have said for years that the best way to keep a resolution is to make small changes, establish a pattern, and build on those patterns slowly.
KURU walking shoes, an upstart e-commerce shoe brand, has compiled four tips that its customers are using to get in shape and keep their new years resolutions.
These tips include:
1. START WITH A GREAT PAIR OF WALKING SHOES. Do not underestimate the importance of the right walking shoes. In fact, recent research has shown that shoes can make a significant difference in not only the exercise one achieves from walking, but can also make a huge difference in reduced injury rates.
KURU has specifically developed its footwear with patent-pending orthotic technology which has been shown to properly support one's knees, hips, and back.
2. SELECT TERRAIN THAT IS CHALLENGING YET ACHIEVABLE. Avoid setting goals that are too lofty. Start by walking around the block once or twice a day, or try parking at the far end of the parking lot when going to work or the grocery store.
For more intensity, walk at a quick pace and choose a place that has several hills and valleys to achieve a higher fitness level.
3. CHOOSE A WALKING PARTNER. Having a walking partner can be motivating and rewarding. Walking partners hold each other accountable and are less likely to find excuses to skip out on a workout.
In addition, a friend can add an extra enjoyment factor to the workout.
4. STRETCH. Stretching is critical to helping minimize and eliminate soreness or injuries. In addition, stretching increases flexibility and blood flow, both of which have added health benefits.
To see KURU's full line of walking shoes, visit: http://www.kurufootwear.com
###