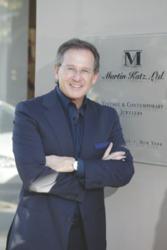 Now is the time to invest in Paraiba tourmaline, as it is only rising in popularity & exclusivity
Beverly Hills, CA (PRWEB) February 27, 2012
Martin Katz is a household name the world over, and his success stems from years of experience in the most elite jewelry venue combined with an eye for the unique and the bold. So, it's with great pleasure that Haute Living calls him in-house Jewelry Ambassador. Katz pens a monthly column in Haute Living New York, Los Angeles and San Francisco.
Inspired by vintage and motivated by modernity, Katz invented a happy medium—and his success took off from there. "The secret to that successful endeavor was that they were 'contemporary pieces with an old soul.' Meticulously made and all signed and numbered, I found a way to appeal to both the new and old collector tastes," he wrote. Perhaps it's for this reason that Katz just celebrated 19 years of bejeweling A-list celebrities and silver-screen staples on the red carpet.
As ambassador, Katz keeps readers updated on what should be in their jewelry boxes, whether it's a bright gem to wear by day or a must-have classic cocktail ring for an awards show. He also predicts trends, giving readers an insider's advantage to acquiring the most precious pieces before the masses do.
Katz did just that in his most recent article. "Now is the time to invest in Paraiba tourmaline, as it is only rising in popularity and exclusivity," he said. "An electric jewel deserving nothing less than the spotlight, Paraiba may be new to most, but it is certainly here to stay."
And what's more powerful than the information he presents is the passion he delivers it with. Read any of Katz's columns and find that beneath the stunning turquoise Paraiba cabochon rings and the vintage jewel broaches lies a zealous collector with a palate for only the best.
What else would anyone expect from the man behind the $5 million dollar bra that stole the show at the 2008 Victoria's Secret Fashion Show and a million-dollar gem-encrusted DKNY fragrance bottle?
About Haute Living Magazine
Haute Living Magazine is a national luxury lifestyle magazine published in four markets—New York, Miami, Los Angeles and San Francisco. The book features the top entrepreneurs, businesspeople and notables in each market and highlights the best in luxury consumer goods, culinary hot spots and events. HauteLiving.com recently underwent an upgrade while Haute Time (http://www.hautetime.com) and Haute 100 (http://www.haute100.com) websites were re-launched, providing readers with upscale resources on the swankest parties, timepieces and individuals.
For more information, please visit: http://www.hauteliving.com
# # #