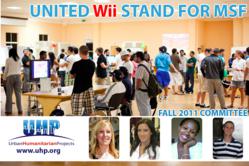 We hope that our donation will allow MSF to provide essential medical care and therapeutic food to the individuals who are suffering as a result of this disaster
New York, NY (PRWEB) February 27, 2012
Students and faculty from St. George's University (SGU) joined together to donate $14,600 to Doctors Without Borders/Médecins Sans Frontières (MSF) to support medical aid efforts in Somalia. The funds were raised through a video game tournament fundraiser called Wii Olympics, which was organized by Urban Humanitarian Projects (UHP) at the medical school in Grenada.
UHP's fundraising committee in Grenada, composed of four second year medical students; Christine Jaquish, Jacqulin Cunningham, Lame' Balikani, and Lee Coghill. The team selected MSF as one of the beneficiaries of the fundraiser and allocated the donation exclusively for Somalia. The entire student body supported this cause and donated generously to the fundraiser.
Over the past year, most of Somalia has been under a devastating drought which forced thousands of men, women, and children to flee their home in search for food. Many of them have found their way to overcrowded refugee camps within Somalia and in bordering Kenya and Ethiopia. MSF staff have been working round the clock at many of these camps to care for its residents.
"We hope that our donation will allow MSF to provide essential medical care and therapeutic food to the individuals who are suffering as a result of this disaster," said Jaquish
This is the second major donation that UHP has made to Doctors Without Borders. In 2010, UHP donated $30,000 to help MSF provide aid to flood victims in Pakistan. This donation was also made possible through the Wii Olympics fundraiser at the medical school campus in Grenada.
Wii Olympics is a massive video game tournament between all the student organizations on campus. Each organization (such as the school's honor society, surgery club, emergency medicine club, etc) donated a certain amount to enter a team of 4 members into the tournament. The actual event consisted of 7 different gaming stations, each with a fun Nintendo Wii game like Wii Sports, Mario Kart, or Wii Play. The teams competed at each station and was eliminated from the tournament if they lost. The grand prize, which was a cruise for 40 students was given to the team that won the most games.
In addition to the student organizations, many other students and faculty members attended the event to play in smaller tournaments that were set up throughout the study hall. The event on October 8th 2011 attracted over 400 members of SGU community and raised a little over $38,000 for three humanitarian initiatives, including MSF in Somalia. The total amount included a 100% match from the school's, Dr. Charles Modica, who has been generously supporting UHP's projects since 2010.
Urban Humanitarian Projects (UHP) is a student-run non-profit 501(c)3 charitable organization founded by St. George's University medical students (Grenada, West Indies) completing their medical training in New York City. UHP's mission - to improve the education, healthcare, and quality of life of the underprivileged – is supported by working with established charities throughout the United States and abroad to make a positive impact in the lives of disadvantaged children and adults. UHP past projects include the annual Urban Santa Project - Christmas day gift delivery, GURUS High School Mentorship Project, and a semi-annual video game tournament fundraiser event which raised over $100,000 for humanitarian projects worldwide. The organization's tax-exempt fiscal sponsor, FJC, a foundation of philanthropic funds, allows start-up programs to utilize their services to accept donations and operate as a legal entity. FJC maintains the organization's financial records, assisting in donor relations and all legally-mandated monitoring and reporting. UHP is fully supported by St. George's University and its administration. http://www.uhp.org
###