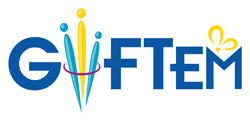 At Giftem, we strive to continuously learn what our users need and want. A blog is the perfect forum to share our knowledge with our users, as well as get their feedback."
New York, NY (PRWEB) February 29, 2012
Giftem LLC is excited to announce the launch of its new blog, http://www.giftem.blogspot.com, a forum for the founders of Giftem and the Giftem community to share ideas and advice on anything and everything gift related.
The Giftem founders are using their creativity and the knowledge they continue to gain from their innovative social shopping network Giftem.com to share great gift ideas, product trends, gift etiquette, and new and different ways to celebrate occasions.
Past blog topics have included fun things to do after the holidays and how to celebrate Valentine's Day on a budget. Future topics scheduled to be discussed in the blog are: using deal websites such as Groupon for gifts, how much to spend on wedding and shower gifts, the topic of re-gifting, etiquette for sending thank you notes, and giving vacations as a gift, among others.
Giftem ultimately hopes that the Giftem blog will expand the Giftem.com community so that everyone can share and receive new and different ideas. Giftem LLC welcomes users to comment and contribute to their blog and visit their new website Giftem.com.
About Giftem
New York based Giftem LLC was founded in Summer 2011 by internet entrepreneurs Michael Rezba and Lindsay Cellars to provide users an all-inclusive website that makes gift giving and celebrating a more fun and stress-free experience. Michael developed the concept after forgetting his father's birthday (more than once). Giftem's mission is to make people's lives just a bit easier by managing all of their shopping and gift giving needs. For more information please visit http://www.giftem.com.
###