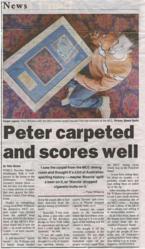 Melbourne, Australia (PRWEB) February 29, 2012
Ready to create buzz for your business but don't know where to start? In its latest episode, PreneurCast host Pete explains why writing a press release is still important, how it makes the writer a better sales person, and what effect it can have on an entrepreneur's business.
During the podcast, Pete states, "A press release must have the same core elements as a good sales letter. The key thing is having a good structured headline and hook. Once the headline is formed, individuals must formulate the supporting evidence to reinforce why the headline is so interesting and sum it up for the journalist reading it".
Pete talks with Dom Goucher, the other host of the marketing podcast, about his blueprint for writing press releases and gives some tips for ways to make them stand out. Listeners are also taught about how every press release should have a call-to-action at the end whether it's for media or inquiries, and to make sure it's clear.
One lesson that Pete and Dom are encouraging their listeners to get from this episode is press releases are easy to write and can get an entrepreneur a lot of free publicity locally, nationally and internationally.
To listen to the complete podcast and find out about all the resources Pete has compiled regarding press release writing and submissions, be sure to tune in - http://www.preneurmedia.tv/PreneurCast/PreneurCast040-getting-publicity-with-press-releases/.
Listeners can subscribe to the podcast in iTunes or PreneurMedia.tv. PreneurCast airs every week.
About PreneurCast Hosts
Pete Williams
Pete is an entrepreneur, internet marketer, speaker and author. At 21, he sold Australia's version of the Yankee Stadium, the Melbourne Cricket Ground, for under $500. He went on to write a number of books (How to Turn Your Million-Dollar Idea Into a Reality, Media Strategies for Internet Marketers, The Ultimate Press Release Swipe File and It's Not About the Product) and create a bunch of companies (Infiniti Telecommunications, On Hold Advertising, Simply Headsets and Preneur Group to name a few). He's also an avid outdoor adventurer. He completed this year's Ironman Western Australia in under 12 hours.
About Dom Goucher
Dom currently lives in a small holiday town on the east coast of Spain with his partner, Keavy, and their three kittens: Meg, Mog and Blue. He's self-employed and has been a Technical Solutions Consultant for Xerox. He has a background in print production and online media production, and has been a photographer and technical trainer for creative software such as Photoshop, Illustrator, InDesign, Dreamweaver, Flash and FinalCut. Somewhere in a box, he has a degree in Computer Science too. He specializes in ScreenFlow and screencasting, and also does transcription, ebook creation, training course design and implementation.
###