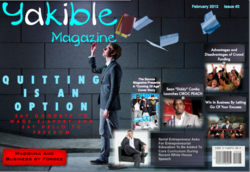 "Felt so hopeless looking for answers to my questions…until now."- Jock
Cheyenne, WY (PRWEB) February 28, 2012
In a recent interview with Yakible Magazine's Delwyn Smith (Editor-in-Chief), it was announced that the Wyoming based Lab313 Corp has launched a new set of digital media publications under the name of "Yakible" http://www.lab313.com/yakiblemagissue2.
Yakible consists of three flip page publications (Yakible Magazine, Yakible Newsletter and Yakible Bites). Yakible's focus is to challenge conventional thinking by showing clear examples and evidence to the contrary.
Recently, Yakible Magazine's readers have responded with the following comments:
"Felt so hopeless looking for answers to questions…until now."- Jock
"Thanks for the insight. It brings light into the dark!"- Fats
"At last! Someone with the insight to solve the problem!"- Sagi
Yakible has seen an increase in readership in just a few days due to advertisments placed with Social Media outlets. With a reach of over 300.000 readers, Yakible is quickly finding its way into many homes. Yakible was created as an alternative to many current publications that look to sell issues instead of educating their readership.
Yakible's mission is to inspire and encourage everyday people to take time and explore their potential and question everything they have been told and see. Yakible's content is sourced from various news outlets, staff writers and online syndicators worldwide.
According to Delwyn Smith, Editor-in-Chief, "The Yakible brand may not appeal to everyone but is designed for those seeking enlightenment. Yakible's target groups are men and women of various ages, geographic locations, races and faiths that question; injustice and inequality. They look for answers to questions that many do not have answers to and do not identify themselves with the "Occupy Movement" or the "99%;" they have come to realize that governments, big businesses, politicians and other institutions will not and should not take care of them and that to have what they want out of life--they have to do the things that most people will not do and that is take responsibility for themselves."
Yakible Magazine is a digital publication that can be either be read online or offline. The publications can be read on the following platforms: Microsoft Windows, Apple Mac OS, linux, iPad, iPhone, and eReader devices. It uses the latest technology that many other flip magazine products do not possess, and that is HTML5. While other products use Adobe Flash (does not work on iPad's and other Apple iOS devices), Yakible uses both Flash and HTML5 so that readers can gain the full experience regardless of the operating system or hardware they use.
Yakible's strategy involves the release if its magazine product on a monthly basis and in between each magazine cycle, release weekly newsletters, and their product named "Yakible Bites." Yakible Bites is presented as a scaled down version of the magazine, containing current and future content that will appear in upcoming issues of Yakible. What they hope to accomplish is to keep the Yakible brand in the readers face and mind and have a constant release of content.
Support for the publications come by way of the Yakible Digital Newsstand http://www.Yakible.com. The newsstand houses current and Yakible issues and allows visitors to leave comments and feedback about the publications. That site also displays entertaining and educational video that can be controlled by the site visitor.
Additional support comes from video tutorials and previews of each publication that get's posted on Youtube http://www.youtube.com/watch?v=FnHtlUAtoDc. These videos are then promoted on various social media networks. The tutorial part of the videos, is meant to demonstrate the navigation features of the publications. More information can be found by visiting http://www.Yakible.com
###