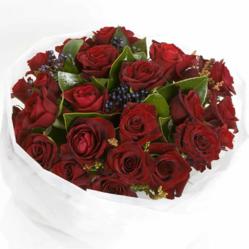 "Leap Day is the perfect chance for women sick of waiting for their man to propose."
Auckland, New Zealand (PRWEB) February 28, 2012
February 29th happens only once every four years. While we all get an extra day, it's also an old folk tradition from the British Isles that on Leap Day - (and only on Leap Day) - a woman can propose to the man. Since traditionally Leap Day wasn't acknowledged by English law, a women who might normally have to wait for a proposal could take advantage of Leap Day by asking the man instead. 
This leap year Wildpoppies, New Zealand's number one online florist, wants to bring a little romance to the day by helping one lucky woman do just that.
"Wildpoppies loves to add a modern spin to tradition," says co-owner Kerry Bradburn. "And since men need a bit of a nudge every now and then, Leap Day is the perfect chance for women sick of waiting for their man to propose."
Wildpoppies.co.nz is offering one woman an armful of gorgeous red roses with which to pop the question. The winner will also receive a bridal bouquet and buttonhole flowers for the couple's wedding day.
To embrace this ancient tradition and win the flowers, ladies who are giving it a crack can simply enter the draw by sending an email with their details to info(at)wildpoppies(dot)co(dot)nz. The winner will be chosen on 9am 29th February.
Wildpoppies was founded in 1998 and has for over 16 years been in the business of selling Auckland flowers and gifts, arranging over one million flowers. The staff has a passion for creating innovative and stunning gifts that come with 100% guaranteed no fuss returns.
###