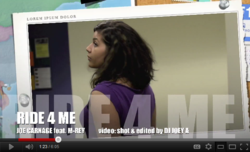 Miami, FL (PRWEB) February 27, 2012
Hip hop artist and producer Joe Carnage recently released the official video for his single "Ride 4 Me," which features Mario "M-Rey" Reyes. Coast 2 Coast Video Distribution presents the video along with Fusion Records. It is from the Carnage's upcoming EP entitled "Freefallin."
Joe Carnage started recording at 17 and was immediately serious about pursuing a career in music. Shortly thereafter, he began making beats as well. Though his main genre is hip hop, he has always loved all types of music, which influences the way he writes. In 2010, he and his wife started Fusion Records, and the company has been steadily growing, allowing Carnage to work with many artists in his hometown of Detroit as well as worldwide.
As a songwriter, Carnage has a special talent for writing hooks—as he did on "Ride 4 Me." All he needed was a talented singer to round out the track. He met Mario "M-Rey" Reyes, a singer from the Pontiac area in 2011, and together they finished the single. When the song started gaining momentum in Michigan, Carnage decided it would be the first single from his upcoming EP "Freefallin," which is scheduled for release March 24, and will be hip hop based with rock and pop influences. It was only natural that the first single would also be the first video, and it was shot and edited by a local DJ, Joey A. Carnage wrote the storyline himself.
Currently, Joe Carnage is in the second round of the Hard Rock Rising 2012 competition and will be battling two other acts on March 8 at the Hard Rock Cafe in Detroit in the hopes of advancing to the local finals.
"Ride 4 Me" can be viewed at http://www.youtube.com/watch?v=iBwqlXyVfbY
###