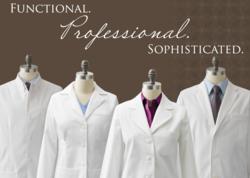 We didn't set out to make the most expensive lab coat; we set out to make the absolute best lab coat. Our customers want a unique product, and that's what we deliver - in quality, in fit, and in performance fabric innovation.
(PRWEB) February 27, 2012
In 2009, James Surowiecki of The New Yorker called the economic climate, "a severe and traumatic recession - the worst downturn since the Great Depression." Indeed, a dismal employment forecast, political stagnation, and a sputtering U.S. economic growth outlook have led many to predict another recession on the horizon. Vincent Reinhart, a fellow at the American Enterprise Institute and former director of monetary affairs at the Federal Reserve, says there's a 40% chance the U.S. will hit another recession within a year.
Greg McBride, a senior financial analyst for Bankrate.com says the slow recovery has left Americans feeling financially insecure. Moreover, consumer spending is sluggish, and consumer confidence is at its lowest point since before the recession. In such an unfavorable climate, how can small businesses survive, let alone thrive?
When Medelita, a lab coat and medical scrubs manufacturer based in Southern California, launched in 2008, it was during the height of the most recent economic recession. Yet with prices that are sometimes three times higher than the industry standard, the small startup company has achieved seven figure sales within its first three years of business - by going up-market and establishing a new niche within a commoditized, price-driven industry.
Unlike the majority of today's consumer markets, the market for luxury goods is thriving. From designer apparel to cars to jewelry, spending on luxury goods has continued to rise, and the nation's wealthiest 5% of households account for about 37% of consumer spending, reports Moody's Analytics.
According to MasterCard Advisors SpendingPulse, a data service that estimates U.S. retail spending, luxury retail nationwide has reported eleven consecutive months of sales increases over last year. Earlier this year, Burberry reported a 39% increase in profit, while Tiffany & Co. saw a 25% rise for the first quarter. Ralph Lauren similarly reported a 24% gain in quarterly revenue, and Whole Foods Market posted a 12.6% revenue increase.
There are examples everywhere in an average U.S. market where old industries are under siege by new high-end products and services that redefine the genre and appeal to luxury consumers. Whole Foods Market established the concept of a high-end grocery chain, Steve Jobs and Apple redefined phones and computers, and BevMo introduced average shoppers to above average wines.
Even in a saturated media industry with home entertainment at a peak, innovative up-market concepts applied to traditional offerings are proving profitable. Gold Class Cinemas, for example, is just one of several growing chains of luxury movie theaters - cinemas that offer personalized five-star service, recliner-like seating, and fine dining. While tickets are nearly $30, the first theater opened in Pasadena, California sold out five of its first seven nights in business.
As wealthy consumers spend hundreds of thousands on accessories and entertainment, Medelita offers medical professionals everyday affordable luxury, with the majority of their lab coats retailing around $140. But it's not about price, says CEO Joe Francisco. "We didn't set out to make the most expensive lab coat; we set out to make the absolute best lab coat. Our customers want a unique product, and that's what we deliver - in quality, in fit, and in performance fabric innovation."
According to the U.S. Department of Labor, medical professions rank among the highest-paying professions in the United States. While compensation varies based on several factors, such as location and specialty, many surgeons make upwards of half a million dollars annually. With an estimated 14.3 million health care workers nationwide in 2008, the health care industry is also one of the largest in the U.S., with the highest employment growth rate of any field. The U.S. Bureau of Labor Statistics predicts that the number of physicians will increase by 17% by 2016, making medical professionals an affluent and growing consumer market.
Committed first and foremost to customer service, Medelita listens to and acts on consumer feedback from medical professionals. On rare occasions when issues have arisen, the company has responded swiftly to correct any problems, and Medelita products are in constant evolution, redesigned and improved before every production cycle. This consumer-centric approach has created strong customer loyalty during a time when generating repeat customers is essential to success, and with the majority of new business driven by referrals and word-of-mouth.
Medelita is also vertically-integrated, from production and manufacturing to marketing and distribution, ensuring that the company's image and messaging remains consistent to its own standards of sophistication and quality. For Joe Francisco, the key to success in the luxury market is brand representation. "We built Medelita based on unrelenting quality standards, perfection, and exceptional customer service. Everything we do stays true to our brand of excellence."
With the luxury goods sector thriving in a down economy, an effective strategy for new retail businesses is in identifying a market where luxury items are hard to find, and establishing a foothold as the leader in an otherwise non-existent category. Unmatched style and quality innovation in a saturated industry, white glove customer service, distinguished branding, vertical integration, and a refusal to compete on price mark the keys to success in a strategy that has at least one small business growing up-market in a down economy.
###