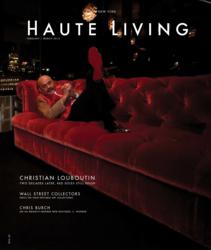 Twenty years is a long time, but I really actually only feel like a teenager in this business
New York, NY (PRWEB) February 27, 2012
The epitome of luxury footwear sat down with Haute Living's Fashion Editor Jillian Sanz, during the Miami leg of his tour celebrating the 20th anniversary of his eponymous brand. The French designer spoke about his "Capsule Collection" featuring 20 redesigned favorites of the fashion power house, spoke about the inspiration behind and the forays into men's footwear, his many muses, his future and beyond.
"Twenty years is a long time, but I really actually only feel like a teenager in this business," Louboutin said in the exclusive interview—perfectly capturing how 20 years in the notoriously fickle industry is certainly something special, yet he is still young in terms of inspiration.
One such example that he chronicled in the interview is the premiering of his very first men's outpost in the U.S., second only to a Parisian locale. Louboutin explained that, while it was an idea that had long since been planted in his head, it was at the suggestion of British singer Mika that the line actually came to life.
"He came to me and said that he really wanted for me to design the shoes for his tour," Louboutin said in the exclusive. "I wondered why, and he said, 'I see the way my girl friends all feel when they put on your shoes—it's like instant power—I have never felt that in shoes,' so I agreed."
Of course, Louboutin shines light on the 20th anniversary tribute; the Capsule Collection—admitting to Sanz it was "not easy to edit down to just 20" and also explaining that an automatic addition to the collection was the Pensee; the muse for the red sole mania that would ensue.
Louboutin also explained how the fashion house plans to make the menswear shopping and design experience unlike any other in the business. His plan: to create a bespoke experience inspired by people's relationships with their tattoos.
There's the traditional bespoke," he said. "But then there will be our tattoo. I had dinner with a man last night and he had an angel tattoo on his neck because he said he needed it to protect him and he wanted to see it every morning when he shaved; people have this personal relationship with their tattoos," Louboutin said of his inspiration for the upcoming project and goes onto explain how Louboutin men's boutiques will have a service where customers can replicate their tattoos, in exact, onto their shoes.
Also chronicled in the sit down was Louboutin's involvement with Paris Cabaret Crazy Horse—for which he directed four original tableaux and enlisted the likes of David Lynch, Swizz Beatz, Gilles Papain and Youssef Nabil. In the feature, Haute Living catches up with Swizz Beatz who sounded off:
"Working with Christian on such an epic project was like a dream come true," he said. "I always wanted to mix fashion music, and dance because it's all one; and Christian is one of one. His mind is amazing. Only he thinks of things like this Crazy Horse project."
About Haute Living Magazine:
Haute Living Magazine is a national luxury lifestyle magazine published in four markets—New York, Miami, Los Angeles, and San Francisco. Haute Living Magazine features the top entrepreneurs, businesspeople, and notables in each market. Haute Living Magazine also highlights the best in luxury consumer goods, culinary hot spots and events. Haute Living recently redesigned its website and re-launched its Haute Time (http://www.hautetime.com) and Haute 100 (http://www.haute100.com) websites for state-of-the-art experiences.
For more information, please visit: http://www.hauteliving.com
###