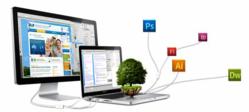 Demand for web design, e-commerce and mobile application development has significantly increased as businesses understand traditional means of researching, shopping and buying are moving online.
Perth, Australia (PRWEB) February 29, 2012
Clue Design has reached a milestone this year, celebrating 15 years in the web design Perth industry. From its small beginnings in 1997 as a one-man operation to a substantial organisation providing services to organisations both Australia wide and internationally; Clue Design has seen significant growth in terms of staff and turnover each year and now boasts an impressive client list.
Clue Design has developed web based applications for some of Australia's biggest companies including Iluka Resources, Howard Park Wines and Madfish Wines. Clue Design's work for the Health Insurance Fund of Australia website was recently announced as winner for the best e-commerce website in the Western Region of the Australian Web Awards.
The demand for e-commerce, mobile application development and Perth web design has significantly increased as businesses have grown to understand that the traditional means of researching, shopping and buying are moving online.
Clue Design has built up an extensive product offering over the last 15 years including developing its bespoke Mintox Adaptive e-Business software and running hundreds of web marketing campaigns for services such as Search Engine Optimisation (SEO) and email marketing. All services are tailored to complement business online and contribute to building success.
As businesses are now realising that the web is the main channel for generating leads and sales, there is a greater need for users to be able to update their website content on a regular basis to keep up with the ever changing global market. With a long-term vision of simplifying the process of developing and deploying web solutions, Clue Design's proprietary developed software, Mintox gives their client a significant edge when it comes to building their online web presence.
Mintox - Adaptive e-Business software has been designed to effectively build and manage both simple and complex websites. Mintox gives complete control over website management and is simple enough for novices, yet has the complexity to adapt to any e-business solution.
Mintox offers 7 solutions including website creation & deployment, easy to use CMS (content management system), lead generation & sales tracking, customer relationship manager, document management and sharing, community collaboration and shopping & e-commerce.
Continual development and maintenance to keep up with current web trends and new technology and a substantial client base have been key factors in seeing Clue Design as one of the frontrunners in web design Perth and SEO Perth.
###