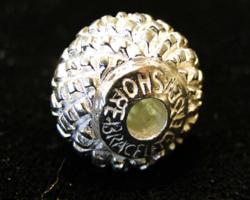 Point Pleasant Beach, NJ (PRWEB) February 28, 2012
The Jersey Shore Bracelet Company, also known as JSB, has made waves in the jewelry business with it's previous two designs, but they expect an even bigger impact with the latest release, a JSB bead. The bead is comprised of solid sterling silver, and has the signature cross-hatching design. It can be worn on a necklace, or on a charm bracelet. The bead is compatable and can be worn on popular bracelets, such as Pandora or Troll bracelets. The response to this new release has been overwhelming, and they continue to order more each week to keep up with the demand.
JSB is also raffling off a piece from their collection and plans to welcome a new person to the ever-expanding 'JSB family' shortly after St. Patrick's Day (March 17th). They are running a promotion of their Facebook page, and if they get to 317 "likes" by March 17th, some lucky winner will get a beautiful sterling silver piece of jewelry.
Background Info:
The Jersey Shore Bracelet Company has launched a line of jewelry based around their signature cross-hatching pattern. The cross-hatching pattern is a simple yet stunning reminder of the beauty of the striations and patterns in the sand after an Atlantic storm. JSB offers sterling silver and 14 karat gold cuff styled Bracelets and a one of a kind wrap-around Starfish Ring, along with their latest addition of a Bead.
The jewelry is a beautiful keepsake to remind you of your summers down the Shore, hence their motto, "Shore Memories that Last Forever." Other coastlines have their own lines of jewelry, and now the Jersey Shore does as well. Check out the website for details and pictures of Jersey Shore Bracelet Beach Tour at your favorite beach spots.
Be sure to 'like' the Jersey Shore Bracelet Company's fan page on Facebook for a chance to win a piece from the JSB collection, and follow them on Twitter, JSBracelet. Stay up to date with JSB news and make a splash in fashion.
Contact Information:
Katie - Designer and President. Katie(at)jerseyshorebracelet(dot)com
###