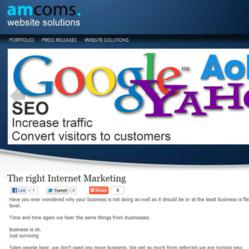 businesses have woken up to the fact that their business can grow inline with a strong internet presence and are prepared to invest more time getting the internet marketing right and that doesn't mean just having a good website design
(PRWEB) February 27, 2012
Several changes have been made at the internet marketing company AM Communications to cope with additional demand in website design and mobile website development.
A new full time graphic designer and a software programmer specialising in mobile and app development were taken on at the end of 2011.
The changes have been necessary so that we can continue to grow as an internet services business providing predominately website design and internet marketing services direct to our clients.
New businesses are much more aware that the internet is no longer a fleeting fancy compared to older businesses. New businesses see opportunities to win new business 24/7 through their website but just need to know how to market efficiently.
Because businesses have woken up to the fact that their business can grow inline with a strong internet presence they are prepared to invest more time into the right internet marketing and that doesn't mean just having a good website design.
A good combination of internet marketing with the use of additional social networking platforms can transform a business' fortunes in a relatively short period of time.
As a celebration of success over the last 12 years AM Communications will launch a new service for business owners who want to know more about internet marketing but pay less.
A series of short courses aimed at small business owners and start up internet marketers will be introduced through a sister company SEC1 Search Engine Competition 1.
The course will take subscribers through the fundamental basics to the core principles of how to succeed with their internet business, businesses competing on the search engines for the same keywords has become a very sophisticated profession but still presented as an industry operating with smoke and mirrors.
Being seen is one thing, being found on the search engines is another. The mission for all businesses with a website should be to be found and convert website traffic into customers.
AM Communication actively promotes the use of Google. For example, Google Adwords is a very powerful advertising and internet marketing tool combined with Google Analytics.
Every business with a great product and service should understand how to leverage traffic for their business by using Google. But then, any business should also be aware there are at least 2 other channels for considerations, Yahoo and Facebook.
The short course from AM Communications will be subscription based.
The course has been designed and developed around the extensive working knowledge during the last 12 years. The rules haven't changed too much during the last 12 years but the playing field has increased considerably with the goal posts now much wider.
In the very beginning everyone wanted to know what ecommerce was all about so they could sell products.
Then everyone wanted to know the best products to sell on the internet.
With the pitfalls covered and the ecommerce website in place, the success wasn't always guaranteed for most people trying to dabble with the internet.
Around 2005, big business had joined in the big internet ecommerce party and after numerous attempts they got their online shops working efficiently enough to create satisfied customer experiences. The internet was steadily taking shape and gaining trust which made other businesses pay more attention.
AM Communications provided guest lectures on 'Formation of Strategy - Design and Implementation' to under-graduate business students in 2000. The same principles underlying these strategies still hold true today and are often echoed by big names in communications at large internet industry conferences.
Back then the under graduates were people who had ideas but not real businesses. At the time real businesses failed to pick up the tools technology was developing to use for selling and marketing. Now the tools are maturing and getting better. Yet new businesses are still finding if difficult to understand how to use these tool.
The first of a series of new short courses is broken into 8 How to SEO modules and all are bite sized stop / pause and move forward at any pace.
The fact is, anyone taking up the course will be armed with the core principles to succeed with internet marketing and is a great way to take 12 years of experience and master the understanding of Internet Marketing in less than a week.
The result will allow business owners to make decisions with confidence, whether that is by deploying an internet marketing strategy on their own or commissioning an experienced digital marketing agency to carry out the necessary work to see results from their website.
AM Communications is a digital marketing agency providing website design, hosting and internet marketing for small businesses.
###