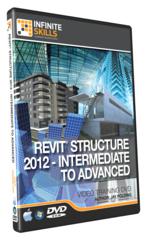 Learn Revit Structure visually
(PRWEB) February 29, 2012
Training developer InfiniteSkills has announced the availability of a new 87-lesson Advanced Revit Structure 2012 Tutorial Video course focusing on intermediate and specialized techniques using the engineering design software. As a followup to the company's beginners Revit Structure course, the Advanced Revit series goes through industry-standard BIM workflows, taking an imported architectural mockup and building a fully capable structural framework. Through this central hands-on project, the Revit Structure tutorial demonstrates annotation, phasing, site tools, truss work, 3D presentation modes and more. For users starting from a more basic level, InfiniteSkills is also offering a comprehensive bundle of its beginners and advanced training at a reduced price.
Advanced Revit Structure Tutorial Video - Training Course
"After receiving so much positive feedback from our initial Revit tutorials, we've seen there's a huge demand for professional instruction in BIM," said Colin Boyd, sales director for InfiniteSkills. "Our courses focus on professional skills that immediately translate into real world work."
As the second tutorial in the Revit Structure 2012 Training series, the course emphasizes advanced techniques in project organization and design. The lessons start with detailed guidance on using families, the efficient component organization feature found across Revit products which allow engineers to have more control over materials and their arrangement onscreen. Next, the course goes in-depth with annotation, showing how to edit, adjust and completely change a project's headers, dimension text, symbols and notes. The Revit Structure tutorials also take a close look at phasing, the ability to separate elements of a project into visually distinct milestones representing stages of construction.
After then going through toposurfacing and detailed structural components, the last sections of the course focus on best practices for presentation and collaboration. Course author Jay Polding looks at using 3D and 2D views and rendering to produce highly detailed models that link seamlessly with existing architectural and CAD frameworks while communicating the impact of the plans. He also covers how to use worksets to share projects with other consultants, architects and engineers.
"Jay's professional experience makes this much more than a features-overview video you might find somewhere else," said Chris Johns, content coordinator for InfiniteSkills. "Because he consults in-house with architects and engineers showing them how to work more efficiently with CAD and BIM products, there isn't a better teacher for this style of course."
Author Jay Polding is an Autodesk Certified Implementation Expert and LEED Accredited Professional with a specialization in technology implementation. With 15 years of architectural industry experience, he has led numerous seminars, written dozens of articles and maintains Revit in Plain English, one of the most popular websites about Revit online.
The Advanced Revit Structure 2012 Training Video course is available for $99.95 USD on DVD-ROM or as a direct download from the InfiniteSkills website. The discounted Revit Structure 2012 Tutorial Bundle, which includes both the beginners and advanced courses, retails for $149.95 in the same formats. Shipping and ordering options are available for customers worldwide, and 12 free demo videos can be found on the Revit Structure training page.
http://www.infiniteskills.com/training/revit-structure-2012-intermediate-to-advanced.html
About InfiniteSkills Inc
InfiniteSkills is a leading provider of video training on popular software, programming languages and technical skills featuring the best teachers and tutors in the world. In addition to training on DVD-ROM, the company has actively pushed to publish its tutorials to eLearning and mobile app formats.
###