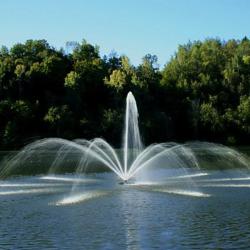 Pond and lake fountains improve water circulation and aeration ...
Arden, NC (PRWEB) February 27, 2012
Kinetic Fountains has today announced the debut of all-new lake and pond fountains to provide significant aesthetic and health benefits for outdoor bodies of water. Lake and pond fountains are available in an array of styles and capacities, ranging from small lighted fountains to those designed for large lakes on estates.
The lake fountains offered by Kinetic Fountains provide vital health benefits for bodies of water. Homeowners without water features on their properties often encounter serious problems with the health of the water, including:

Significant weed/algae growth
Sick or dying fish
Stagnant/foul smelling water
Pond and lake fountains improve water circulation and aeration, helping to alleviate these and other problems. With aeration and better water circulation, foul odors can be eliminated, algal and weed growth can be controlled, and fish are healthier due to less stress and disease, and a heavier concentration of oxygen in the water.
Of course, the lake and pond fountains provided by Kinetic Fountains are also eye-catching and beautiful, providing the optimum way to add aesthetic appeal to an outdoor water feature. Small floating spray fountains with lights offer a whimsical beauty, while large fountains provide an elegant touch. Moreover, Kinetic Fountains offers lake and pond fountains to fit any body of water, from a small backyard koi pond to large lakes stocked with large-breed fish species.
All lake and pond fountains featured offer sturdy construction for the utmost in terms of longevity and reliability. From golf course water features to parklands and koi ponds, fountains can add beauty, health and vibrancy through the natural beauty of flowing water and the addition of optional lighting kits for use after dark.
To find out more about the lake and pond fountains on offer, visit the company at http://www.KineticFountains.com.
About Kinetic Fountains: Kinetic Fountains is located in the stunning Blue Ridge Mountains in North Carolina. The company is dedicated to giving customers the means to enjoy the incomparable beauty of nature and the health benefits offered by running water in the form of indoor fountains, outdoor fountains, logoed fountains and more.
###