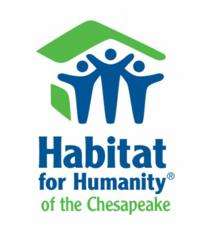 Baltimore, MD (PRWEB) February 28, 2012
Habitat for Humanity of the Chesapeake, a Baltimore-based affiliate of the international nonprofit that builds simple, decent, and affordable housing for low-income families, announces a wave of opportunities for those looking to volunteer in Maryland.
The Baltimore Charity has already opened up the new year with a wave of movement, both internally and externally. The nonprofit announced in January that Mike Posko, a native Marylander, will fill the role of Chief Executive Officer.
Posko has resided for 50 years in Anne Arundel County and has spent his entire career in the Greater Baltimore area, with 17 years at the Federal Reserve Bank of Baltimore and the past 10 years in executive leadership positions in commercial real estate development.
HFHC is formulating plans to introduce CEO Mike Posko to the community through a series of speaking opportunities, networking events, open houses, and more.
Outside of the HFHC offices, the nonprofit continues to reach out to potential volunteers in Baltimore & surrounding neighborhoods and is seeking partners to support Habitat's mission, as well as families in need of the affiliate's affordable housing services.
Benefit events are available for those who would like to support Habitat but cannot volunteer in the organization's construction efforts. The Second Annual Garden Preview Party to benefit HFHC will take place at the Maryland Home & Garden Show on Friday, March 2, 6:00 – 9:00 p.m., at the Maryland State Fairgrounds, 2200 York Road in Timonium.
Ticket proceeds for the Garden Preview Party will support HFHC's mission. Garden Preview Party tickets are $50 in advance online and $60 at the door.
Additionally, HFHC also holds regular homeowner orientations for those interested in taking the first step towards becoming a homeowner. HFHC holds these hour-long orientations three times per month in community locations. The schedule is posted online at habitatchesapeake.org.
About Habitat for Humanity of the Chesapeake:
Putting faith into action, Habitat for Humanity of the Chesapeake brings people together to build decent, affordable homes that change lives, empower families and strengthen communities. Habitat for Humanity of the Chesapeake serves Anne Arundel County, Baltimore City, Baltimore County and Howard County. Call 410.366.1250 or visit habitatchesapeake.org for information.
###