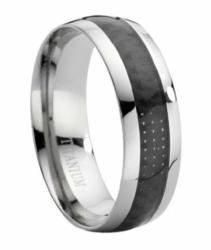 The alternative men's wedding bands found here offer something for everyone, and the prices cannot be beat
Jensen Beach, FL (PRWEB) February 28, 2012
MWR is dedicated to providing an unparalleled selection of wedding bands and they are proud to enhance this with a new collection of alternative men's wedding bands. Like no other men's jewelry retailer, MWR had continued to expand its collections well beyond what most customers expect. With this many rings for sale, it would be virtually impossible for a man not to find the right ring at this store. Their unique and alternative collections include rings made from silver, stainless steel, titanium, tungsten and ceramic.
In response to customer requests for more contemporary wedding rings, Mens-Wedding-Rings.com has expanded its selection to include several new black stainless steel rings, titanium bands with carbon fiber inlays and several black ceramic and tungsten styles. The alternative men's wedding bands found here offer something for everyone, and the prices cannot be beat. Many of the stainless steel rings in the "Unique and Alternative" collection are priced below $20, and all of the non-designer wedding bands are less than $100. To enhance the shopping experience even further, MWR usually ships in-stock items on the same day or next day and they offer a lifetime warranty on every ring they sell.
Unlike many jewelry store chains and web stores who have added a few styles of contemporary wedding rings, MWR is committed to offering an expanded selection that includes unique and alternative metals as well as larger sizes. Plus, many of their rings are made with a comfort-fit design. Over the past two years, MWR has earned a reputation for their vast array of wedding bands from top-rated resources. A few well known bridal consultants have singled out this ecommerce retailer as one of the best resources for grooms-to-be. MWR now prides itself on selling the largest selection of attractive and affordable men's wedding rings on the Internet.
At Mens-Wedding-Rings.com, their user-friendly navigation makes it easy for visitors to "Shop by Collection" and see the latest styles of unique and alternative men's wedding bands. As customers shop for rings that reflect their personal tastes, MWR is pleased to offer a wide range of contemporary and unique styles. Unlike many competing online jewelers, MWR allows men to find out more about their favorite alternative rings in just a few clicks without the need to scroll through pages of other styles. In addition to shopping by collection, MWR allows customers to shop by metal, size and price range.
One reason for the early success of Mens-Wedding-Rings.com is their dedication to transforming their inventory into the most impressive assortment of men's alternative men's wedding bands available anywhere. With rings made from stainless steel, titanium, tungsten and ceramic, their selection of alternative rings for men continues to grow. Owners Roy and Judy Devine are always seeking new ways to innovate by enhancing the shopping experience at MWR. Adding a better variety of unique and contemporary rings is just another way of doing this. MWR has also added included three gorgeous designer black titanium rings in this collection, all of which are made with aircraft-grade titanium.
According to MWR co-owner Roy Devine, "Men are feeling more confident in their choice of unique and alternative men's wedding bands. Rather than playing it safe with a traditional gold ring, they are looking for ways to make a statement through the jewelry they wear." By dedicating so much of their diverse selection to contemporary metals, MWR has recognized that alternative wedding bands are not just a passing trend. Instead of shopping for a traditional gold or platinum band, men are finding that rings made from black stainless steel, ceramic, titanium and tungsten are a better expression of their personal style.
About Mens-Wedding-Rings:
Mens-Wedding-Rings.com is a niche online jewelry store for men's wedding rings and bands. In this specialized retail environment, customers find the best quality men's traditional and alternative wedding rings. From major designer bands in traditional and alternative metals to non-designer rings in stainless steel, titanium, tungsten, sterling silver and cobalt, Mens-Wedding-Rings.com is a one-stop source for men's wedding bands and rings. Owners Roy and Judy Devine make it their goal to ensure their customers are completely satisfied, so they only sell high quality rings at excellent prices. All of their rings come with a 100% satisfaction guarantee, and their customers have come to expect the highest standards of service, selection and quality when they shop at Mens-Wedding-Rings.com. MWR offers the best selection of men's wedding rings on the Internet, many of which are available through size 20.
Contact information:
Roy & Judy Devine, Owners
Mens-Wedding-Rings.com
800.676.0363
http://www.mens-wedding-rings.com
Email: roy(at)mens-wedding-rings.com
###