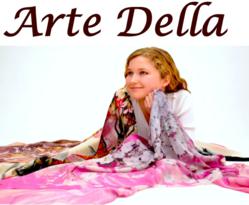 Pamper Yourself In Style
Greater New York Area, NY (PRWEB) February 29, 2012
HOP Cashmere announces the launch of Arte Della Designer Scarves Line. Made in inspired themes from medieval Europe, this collection features many designs that are sure to appeal to scarf lovers of all ages. The collection can be browsed on the Arte Della website look book. Themes chosen for 2012 consist of Surrealism, Flora Style, Geo Art and Feline Fusion. All designs are available in either cool silk wool blend for spring and summer or pure soft cashmere.
Arte Della is European Renaissance Era term for the Famous Arties or Guilds of Florence, Italy. Two of the famous Arties – Arte Della Lana (The Guild Of Wool) and Arte Della Seta ( The Guild Of Silk) were the two most famous Arties in Florence, Italy. The Arte Della collection from HOP Cashmere takes inspiration from renaissance era art and using Silk and Wool blends, tries to capture the art on scarves.
"We have tried our best to capture the medieval European themes in these scarves and fuse them with the current trends in scarf fashion. I trust the clients will like our collection and provide us input on how to improve it", says Rex C, the lead designer of Arte Della and co-founder of HOP Cashmere brand.
HOP Cashmere is a well known brand of premium scarves and pashminas and operates with two distinctive scarf lines – Home Of Pashmina ( the solid color and traditional pashminas made with silk and cashmere) and Arte Della ( The designer scarf line). Their design house is based in New York Area, USA and products are manufactured globally.
The collection is available to boutiques and resellers in USA, Europe and Australia and can be ordered from Arte Della website or by contacting the company directly.
HOP and will soon be launching more varieties of Designer Pashminas and Scarves so stay tuned for more such announcements in 2012 and meanwhile - "Pamper Yourself In Style".
About HOP Cashmere
HOP Cashmere is a New York area based Cashmere Pashmina Design/Import House with online presence as Home Of Pashmina and Arte Della and its products are available in various boutiques in USA . Anu C – The owner of HOP Cashmere brand and President of Home Of Pashmina has many years of experience as merchandiser in a apparel manufacture and export company. Anu has also appeared in New York Area magazines as a upcoming women entrepreneur and a Pashmina lover.
For more information about HOP Cashmere and Arte Della or to order a press kit, please contact:
Anu Chandwani
Telephone: 800-757-2297
Email: ac(at)homeofpashmina(dot)com
Online: http://www.HOPCashmere.com and http://www.ArteDella.com
###