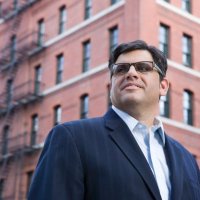 We have the unique opportunity to continue to grow and scale the business to new heights while delivering a dynamic on-air and digital weather experience to our customers worldwide."
-Patrick Vogt, CEO, Weather Central, LP
Madison, WI (PRWEB) February 27, 2012
Weather Central, LP – the world's leading provider of interactive weather graphics and data services for television, web, and mobile – today announced that Patrick Vogt has been appointed Chief Executive Officer. Vogt will work closely with the management team and the Board of Directors to leverage the company's unique collection of data, on-air systems and digital assets to drive an integrated global strategy and accelerate growth.
Most recently, Vogt served as Chairman and CEO of Datran Media, a digital marketing company, and then as Executive Chairman of PulsePoint, a global media technology company formed through Datran's merger with ContextWeb in September 2011. Prior to PulsePoint, Vogt was CEO of the NASDAQ-traded Enliven Marketing Technologies. For more than two decades, Vogt has been recognized as a leader in the digital, media and internet technology industries. He is also a longtime supporter of TED, a nonprofit organization devoted to ideas worth spreading. Vogt will retain his position as Chairman of PulsePoint.
"Weather is one of largest and most interesting big data sets in any industry, but the challenge lies in putting that data to work in a way that is both highly precise and highly practical. Weather Central does exactly that, and they do it better than anyone else. I'm thrilled to be a part of that process," said Vogt. "We are at an important inflection point where emerging technologies can be applied to predictive models that impact everything from the health and safety of individuals, to broader environmental, agricultural and economic trends. At Weather Central, we have the unique opportunity to continue to grow and scale the business to new heights while delivering a dynamic on-air and digital weather experience to our customers worldwide. I look forward to achieving our goals working side by side with Weather Central's incredibly talented and passionate team."
Lynn Forester de Rothschild, CEO of E.L. Rothschild LLC, the private investment company that owns a majority stake in Weather Central, said: "Patrick brings a strong leadership background to Weather Central, having served as a chief executive for both public and private digital media technology companies, as well as in senior executive positions at some of the most premiere brands in the world including Sony, HP and Dell. He has a deep understanding of the media and digital industry, as well as a proven track record of success."
Weather Central is the worldwide leader in weather, forecasting, traffic, news and sports visualization systems. With a diverse and innovative team that includes meteorologists, anchors, reporters and producers, artists, computer scientists, broadcast consultants, and support specialists, Weather Central understands the challenges facing broadcasters, online publishers and brands. Toward that end, the company delivers customized solutions and workflow innovations that help clients increase revenues in an increasingly fragmented, multi-screen landscape. Weather Central's digital offering empowers companies to monetize and personalize interactive weather content online and on mobile devices with the MyWeather white label product.
Vogt succeeds Terry Kelly, who founded Weather Central in 1974. "We want to thank Terry for his dedication and leadership at the company," stated Sir Evelyn de Rothschild, Chairman of Weather Central, LP. "We are excited to have Patrick join the team, and we are confident that he is the right person to lead the company to future success as weather continues to have significant human and financial implications around the world. Patrick's diverse experience gives him a rare perspective on both the TV and digital business, and he has the leadership and vision to effectively drive global initiatives across all media and platforms."
ABOUT WEATHER CENTRAL, LP
Weather Central, LP, founded in 1974 by broadcasters and meteorologists based in Madison, Wisconsin, is the leading provider of professional on-air, online, print, mobile and enterprise weather solutions and forecasting science to companies worldwide. Utilizing the company's dynamic weather graphics, precise forecast models, data, and patented technology, more than 1,000 partners and hundreds of millions of consumers worldwide benefit from Weather Central's attention to weather presentation, detail and insight.
ABOUT E.L. ROTHSCHILD LLC
E.L. Rothschild LLC is a privately funded family investment company, which was established in 2003 by Sir Evelyn de Rothschild and Lynn Forester de Rothschild to oversee a variety of the Rothschilds' global investments. The principals have extensive experience investing in and operating businesses in the United States, United Kingdom, Europe, India and South America. E.L. Rothschild LLC employs the strategy of taking a long-term view toward partnership and value creation. The company currently has interests in media, real estate, agriculture and luxury goods, with significant previous positions in financial services, technology and communications.
###