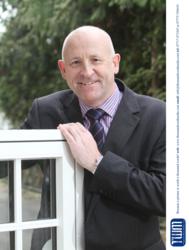 I'm keen to develop the profile of the brand and increase the profitability of a company which has a proud heritage
Berwick-upon-Tweed (PRWEB UK) 28 February 2012
Timber windows and doors manufacturer Allan Brothers Ltd, which is embarking on a campaign to sell more of its products direct to consumers, has a new sales director.
He is Dareth Daley who is returning to the position he held with the Berwick upon Tweed-based company he left 10 years ago. Mr Daley then joined Vicaima Ltd, one of the top European manufacturers of internal doors, as commercial director prior to taking up senior executive roles with windows group NorDan UK Ltd.
"The fact that Allan Brothers is now owned by the progressive Inwido Group is a major factor in my returning to the company, coupled with the opportunities for growth, particularly in the south of England," said 51-year-old Mr Daley, who has worked in the construction sector selling doors and windows for 30 years.
He added: "I'm keen to develop the profile of the brand and increase the profitability of a company which has a proud heritage and has just celebrated its bi-centenary."
Allan Brothers managing director Danny Hughes said: "We are truly delighted to welcome Dareth back at this exciting time in the company's development. He is a highly respected figure in the industry and has the experience we need to raise awareness of our quality products in the consumer market. I'm looking forward to working closely with him."
Scandinavian-based Inwido has recently increased investment in Allan Brothers, including £1m in new machinery and software. The company's new consumer strategy will be backed by an ambitious publicity campaign in Yorkshire and the spa towns of southern England.
While focusing on the home improvements market Mr Hughes is adamant that the company will not leave behind its traditional roots in the building and social housing market.
###