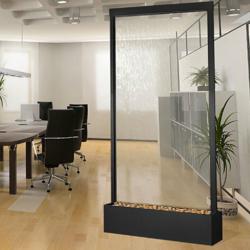 It's easy for everyone to get the perfect fountain.
Arden, NC (PRWEB) February 28, 2012
Kinetic Fountains has today unveiled their new custom water features programs, allowing customers to design and create exactly the indoor or outdoor fountain needed to fit their application, whether that's a home or business environment. Both indoor and outdoor fountains have grown enormously in popularity recently, thanks in large part to new evidence of the health benefits and aesthetics they can provide for homes and businesses. With Kinetic Fountains' new custom water features program, it's easy for everyone to get the perfect fountain.
The custom water fountains program works in five simple steps. First, the customer discusses the project requirements with Kinetic Fountains. This step includes reviewing fountain placement, material considerations and budget. Second, once the project has been reviewed, Kinetic Fountains' expert engineers will make recommendations on fountain style and type to fit the budget and installation location.
The third step in the custom water features program is providing a quote and finalizing all plans, including making any necessary adjustments to the fountain design. Production of the fountain is the fourth step. Production time varies with each custom water feature, due to differences in design complexity, size and material availability.
The final step in the custom water features program is delivery and installation. Once the fountain has been completed, Kinetic Fountains will deliver it to the client's specified destination where installation can take place (the customer can install it or hire installers to handle the task on their behalf).
The custom water features program includes several options, including the inclusion of lighting in the fountain, the addition of a custom logo to the fountain design and the inclusion of a filling and draining system for the fountain. Starting the process is simple, and Kinetic Fountains offers an online questionnaire for customers.
To find out more about the new custom water features program or to place an order, visit the company at http://www.KineticFountains.com.
About Kinetic Fountains: Kinetic Fountains is located in the stunning Blue Ridge Mountains in North Carolina. The company is dedicated to giving customers the means to enjoy the incomparable beauty of nature and the health benefits offered by running water in the form of indoor fountains, outdoor fountains, logoed fountains and more.
# # #