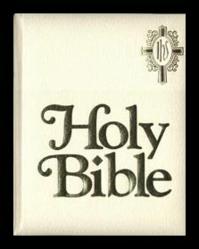 Reading the bible and discovering God's Word given to us through his prophets and fulfilled through the life and death of His Son, has inspired me not only to learn more about God and his infinite love, but, was the inspiration for Holy Cross Necklaces.
Columbus, Ohio (PRWEB) February 28, 2012
Holy Cross Necklaces announces a 10% off Lenten sale on all bibles and missals to encourage Catholics to spend the 40 days of lent in prayer and preparation for the glorious feast of the Resurrection of Christ on Easter. On Ash Wednesday, which was celebrated on February 22, Catholics began their 40 days of preparation for Easter by fasting, prayer, and repentance. It is fitting then, to focus this time of prayer by reading, studying and praying the Word of God with a bible or daily Missal.
At Holy Cross Necklaces Catholic Store you will find all the editions of the Catholic bibles, including: The New American Bible, Ignatius Bible, The Jerusalem Bible, Douay-Rheims Bible, Revised Standard Edition Catholic Edition, and more. Many of the editions of these bibles feature inspiring sections on the Life of Christ as painted by the Old Masters, Old Masters illustrations of Old Testament heroes, prophets, and patriarchs, pictures of important shrines and the Holy Land, maps of the Holy land during ancient times and today, meditation aids, full color sections on the Rosary and the Stations of the Cross, and study aids such as a comprehensive biblical dictionary and concordance. All of these tools are designed to assist families fully receive the richness of the Word of God.
Special gift editions, such as the Confirmation Gift Bible Douay-Rheims edition feature a zippered case and are easy to carry anywhere. They are great gift ideas for all of the special spiritual events in the life of a loved one, especially Communions, Confirmations, Religious Professions, and Weddings.
Marianne Buzzelli, owner, explains, "Reading the bible and discovering God's Word given to us through his prophets and fulfilled through the life and death of His Son, has inspired me not only to learn more about God and his infinite love, but, was the inspiration for Holy Cross Necklaces Catholic Store. Our goal is to inspire all Catholics to seek the will of God. And, there is no greater method than to read the Word of God."
For more information on the 10% discount on all Catholic bibles and missals please visit http://holycrossnecklaces.com/
# # #