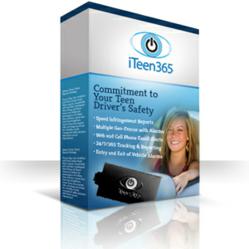 "We want to arm parents with the information they need to help their teens make better driving decisions. Now that it's available for free, there really is no reason why every teen's car shouldn't be equipped with iTeen365."
Chicago, IL (PRWEB) February 28, 2012
The Governors Highway Safety Association issued a study on teen driving statistics and reports that the number of teen drivers dying behind the wheel will increase for the first time in more than eight years. Researchers found an 11 percent overall increase during the first six months of 2011 and the percentage of 16-year-olds killed spiked by 16 percent while the percentage of 17-year-olds killed rose by 7 percent. Thankfully, for worried parents, it's now possible to easily monitor teen's driving behavior 24/7 with iTeen365, the most reliable GPS vehicle tracking device. Today, iTrack365, the makers of iTeen365, announce that the device will be available for free with a 2-year service agreement ($34.95 monthly) and one-time activation fee ($50).
iTeen365 is a unique 24/7 vehicle tracking system delivering real-time updates on location and route; email alerts when a teen is outside a designated area or if the car is being towed or stolen. It provides parents with instant access to speeding and driving reports that quickly build their teen's driving skills, confidence and safety.
"As parents ourselves, we were concerned when we read the new study by the Governor's Highway Safety Association," said Joe McBreen, CEO of iTrack365. "We want to arm parents with the information they need to help their teens make better driving decisions. Now that the product is available for free, there really is no reason why every teen's car shouldn't be equipped with iTeen365."
A study by the Insurance Institute for Highway Safety reports that equipping the cars teens drive with vehicle tracking devices can help reduce the risks teens take by proving parents feedback about driving behavior for both teens and their parents. iTeen365 allows parents to monitor their teen's driving in real-time online and set-up alerts and email notifications.
Key Features:
Vehicle Tracking Data: Real-time visibility of vehicle's location
Vehicle History Reports: Up to four-months of detailed driving reports
Mapping: Easy online map view of vehicle location via integrated Google Maps
Speed Infringement Reports: See speeding infringements in different speed zones over a period of time
Geo Fencings: Designate unapproved driving areas and locations
Movement Alarms: Alerts any unapproved movement of the vehicle
Email Alerts: Receive email alerts for when the vehicle leaves or comes into the area(s) you specify
iTeen365 can be purchased at http://www.iteen365.com for free with a 2-year service agreement ($34.95) plus one-time activation fee ($50). After purchase, iTrack365 will coordinate for convenient installation of iTeen365 via a local authorized installation technician. Mobile installation are available but currently only in select areas.
About iTrack365, Inc.:
iTrack365 has partnered with one of the world's leading providers of telematics to offer a complete range of web-based GPS vehicle tracking devices and GPS fleet management solutions. Currently available in over 30 countries worldwide, the iTrack365 suite includes: iTeen365, iSenior365, iPrivatei365, iFleet365, and iLease365. With advanced technologies, its own full end-to-end solution capabilities from the design of the hardware and software, to the web based hosting solution; iTrack365 has made this a convenient, user-friendly application for both individuals and companies of any size. For more information: 866-900-2464
###