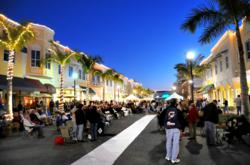 Our ability to re-tenant in less than 30 days is a testament to the market in Lakewood Ranch.
Lakewood Ranch, FL (PRWEB) February 27, 2012
Commercial real estate is booming in Lakewood Ranch, FL as nine new businesses announce openings on Main Street.
After a residential real estate recovery in 2011 that bucked state and national trends in Lakewood Ranch, FL commercial real estate is now following the recovery trend with a resurgence of business activity on the ranch's popular downtown shopping and dining center. Nine additional new businesses will be added to Main Street over first few months of 2012.
Soma, a national franchise owned by Chico's, will open in March. Soma sells lingerie and intimates for women and will open right next door to Chico's.
Premier Sotheby's International Realty will replace Prudential Palms beginning March 1, and JPan Sushi will replace Saijo Sushi . The American Shore Trading Company will soon open in the former Little Bookworms' space. "The addition of more national brands like Soma and Signature Sotheby's is a testament to the success of Main Street," said Brian Kennelly, president of LWR Commercial Realty. "It's a huge compliment to have names like these and other local success stories like JPan, Fast N Fresh and Pincher's all getting ready to open. Our ability to re-tenant the sushi restaurant and real estate office with less than 30 days down time is a great indication of the strength of the market in Lakewood Ranch."
American Shore is a local, family owned business. In support of Lakewood Ranch's green community status, the store will emphasize eco-friendly products, said owners Barry and Lynn Rainwater. "American Shore is a brand new concept, and we'll offer skateboard- and surfboard-inspired apparel, accessories and shoes plus our own private label of clothing," said Barry Rainwater "We'll also have backpacks, skateboards, longboards and more." They are hoping to be open by the spring.
Lorelei's clothing store and the Naples Soap Company will be other additions coming soon, along with Fast N Fresh casual restaurant and Pincher's Crab Shack. Berlin Patten, PLLC is also opening a third office on Main Street in Lakewood Ranch. This is a full service transactional and litigation firm, focusing primarily on real estate related matters. Other offices are currently in Sarasota and Venice.
In 2011, close to 400 new homes were sold in Lakewood Ranch, FL, one of top selling master planned communities in the United States. "With our new sports campus, new commercial construction this year totaling upwards of $150 million, and new rental projects springing up, we're proud that Lakewood Ranch has become the premier new-home destination on Florida's West Coast," said Rex Jensen, president and CEO of Schroeder-Manatee Ranch, Inc., the developer of Lakewood Ranch. "That is definitely translating into more visitors, which in turn means more sales." There are 18 new home builders on the ranch with more than 40 new home models and 170 homes currently under construction.
Main Street at Lakewood Ranch is the fashionable shopping venue located across from the Lakewood Ranch Medical Center on Lakewood Ranch Boulevard. Stylish boutiques, restaurants and offices blend to create an intimate small-town village theme. http://www.lwrmainstreet.com
###