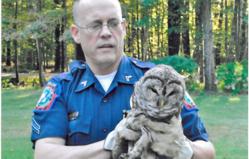 What a fantastic story of the Barred Owl and a great outcome! Great photo too!! --Sharon Dunn
Concord, NH (PRWEB) February 28, 2012
In October 2011, Duncraft employee George came home from a walk to find an interesting sight. A beautiful Barred Owl was on the lawn outside his house. George tiptoed past the owl so as not to alarm him and went inside to get his camera. While taking a few pictures, George noticed something amiss. Although the owl was alert, it seemed only able to hop and made no attempt to fly away.
The only conclusion George could make was that the owl had possibly flown into a nearby window on the house and was injured. After several attempts to contact the local Audubon Society for assistance with no success, George decided to call the Loudon police department.
Luckily, George was able to contact Corporal Jason Fiske, a police officer, but also an avid animal lover. Jason frequently rescues animals and was the perfect person for the job. Jason quickly arrived on the scene and calmed the bird. Then he picked it up and put it in a cardboard box for the ride to the local wildlife rehabilitator.
Good news! When the bird arrived at the rehabilitator, it was quickly examined for injuries. They told Jason that the bird had a minor wing injury that would quickly heal and the bird would be released in no time. Jason reported back to George to let him know.
Although he heard no more information about the owl, George is quite sure it's now living its life back in the wild. Hopefully it will steer clear of George's house in the future, and Duncraft was glad to hear the story had a happy ending. Thanks to George, for sharing his story and remembering the camera!
Founded in 1952 and located in Concord, New Hampshire, Duncraft's objective is to bring the joy of backyard birding to wild bird lovers all across the country. Mike Dunn, owner and CEO is constantly inventing and searching for innovative ideas in bird feeding—giving bird lovers years of bird feeding enjoyment, success and satisfaction.
Duncraft Wild Bird Superstore
102 Fisherville Road
Concord, NH 03303
Phone: 603-224-0200
Fax: 603-226-3735
# # #