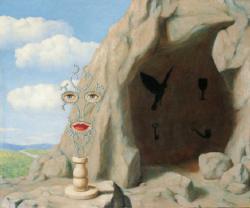 Greenwich, CT (PRWEB) February 29, 2012
Chalk & Vermilion Fine Arts has loaned three significant original works (oil paintings La Dialectique appliquée and Les Grands rendez-vous and a 1950 sketch) by eminent Belgian surrealist, René Magritte to the traveling exhibition, "The Pleasure Principle". The exhibition, which ran at the Tate Liverpool from June 24, 2011 through October 16, 2011 is currently at the Albertina Museum in Vienna until February 26, 2012. With 250 works (some rarely seen) from public and private collections throughout Europe, North America and Japan, the exposition represents the largest showing of Magritte's work in the last twenty years.
Known for his thought provoking images, Magritte used ordinary objects such as green apples, bowler hats and pipes in unfamiliar contexts, giving new meaning to familiar things and challenging the viewer's perception of reality. His work has been an inspiration to artists such as Ed Ruscha, Jasper Johns and Andy Warhol.
The Tate Liverpool exhibition focused on the inspiration for the artist's style and featured drawings, collages and examples of the early commercial work of Magritte and rarely seen photographs and films. The Albertina exhibition retraced the artist's progress in chronological order from his mind games to his pop culture inspired "Periode Vache" and his later focus on mystery. According to Tate Liverpool Director, Christoph Grunenberg, "…this exhibit brings a new level to Magritte, a new significance…He's an artist you can rediscover."
Chalk & Vermilion Fine Arts has loaned prominent works by artists such as Marc Chagall, Sam Francis, Pablo Picasso, René Magritte, Andy Warhol, George Tooker, and Jean Dubuffet to major museums worldwide, including the Whitney Museum of Art in New York, the Museum of Contemporary Art in Los Angeles, the San Francisco Museum of Modern Art, the National Gallery of Art in Washington D.C., the Museu Picasso in Barcelona, the Pompidou in Paris, the Royal Museum of Brussels and the Louisiana Museum of Modern Art in Denmark, Kunstsammlung Nordrhien-Westfalen in Germany, The National Museum of Modern Art in Tokyo and the Yamaguchi Prefectural Museum of Art.
Also one of America's foremost publishers of contemporary fine art prints and sculpture, Chalk & Vermilion Fine Arts and its Martin Lawrence retail galleries represent a number of today's most popular artists from around the world, such as Philippe Bertho, Fanny Brennan, Robert Deyber, Erté, François Fressinier, Kerry Hallam, Liudmila Kondakova, Felix Mas, and others.
In the fall of 2011, Martin Lawrence Galleries opened a 26,000 square foot gallery in the Forum Shops at Caesars in Las Vegas. This is perhaps the largest art gallery in the United States.
###