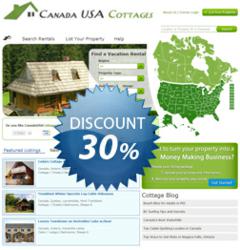 In this economy, more and more travelers are looking for the value they can gain from a rental, which are much more economical than hotels
Tampa, FL (PRWEB) February 28, 2012
One of the leading website in cottage rental industry, CanadaUSACottages.com, who connect property owners with their consumers, slash their already competitive prices for a limited time only. Until March 31st, CanadaUSACottages.com is offering new clients a 30% discount on all listing packages they offer. This means that cottage owners can find an all-in-one solution to their advertising needs for as low as $5.78/month or 69.30/year.
CanadaUSACottages.com is proud to offer owners the most cost-effective, result-oriented, and simple way to advertise online, offering affordable listing packages that enable owners to get listings on 4 high traffic websites at once, be on the top of travelers' search results, and have access to the tools they will need to effectively market their property rental, today. While a single rental gained from CanadaUSACottages.com would easily cover the annual fee of listing with them, this discount makes a great opportunity for owners even more lucrative.
"In this economy, more and more travelers are looking for the value they can gain from a rental, which are much more economical than hotels," says Harun Kinali, CEO of CanadaUSACottages.com. "Considering the current economic climate, there never was a better time for owners to take advantage of this great deal." And while travelers are looking to CanadaUSACottages.com to get the most value out of their vacation abode, property owners are likewise benefiting by the value of the high ROI (Return On Investment) gained by advertising with them. This is because CanadaUSACottages.com implements a two-fold quality and value assurance strategy, ensuring that both property owners and travelers will find using the site both an easy and worthwhile experience.
If a vacation rental falls out of business in the middle of the forest, and no one is around to hear it, does it make a sound? No, and that's the problem. You have to create a buzz about your rental if you want consumers to be interested, and the only way to do that in today's market is to create a solid online presence that is regularly updated. Far from being a passive, mechanical listing site, CanadaUSACottages.com employs consistently cutting edge and up-to-date technology and SEO marketing tools to greatly increase your property's visibility on the web, by not only automatically posting your listing on all major search engines, but by driving traffic to your listing, utilizing specific keywords pertaining to your property's location, amenities, and features.
Designed by experts in the fields of both website optimization and travel, their easy-to-use interface gives owners in their network access to a variety of tools that allow them to market their property to its full potential. While the modern traveler complains that she spends as much time finding accommodations for her trip as on her trip, CanadaUSACottages.com strives to put the "vacation" back into cottage rentals, making the process of advertising a quality rental as simple as enjoying it. Owners have secure, 24/7 access their Control Panel, where they can edit and update their listing at any time. The Control Panel eases the process of vacation renting for owners and travelers alike, with effective tools like the interactive calendar, where owners can conveniently show their listing's availability; help travelers locate their property using Google Maps; as well as provide images of their property, descriptions, and more. Owners can also benefit from the Control Panel's user friendly price table, where they can quickly identify their high and low seasons, and get access to other useful statistics about their property and others in their area of listing.
CanadaUSACottages.com is a web-based travel listing company, driven to create a quality vacation renting experience for property owners and travelers alike. Their user friendly site offers easy-to-optimize property listings for cabins, cottages, and bed and breakfasts, as well as marketing tools, free informational blogs, and much more. Travel to the future of advertising with CanadaUSACottages.com, and send competitors and travelers packing—to stay in your quality property rental.
For more information contact:
1-866-709-5402
info(at)canadausacottages(dot)com
http://www.canadausacottages.com/
###