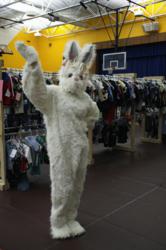 Chesterfield, Missouri 63005 (PRWEB) February 29, 2012
Between March 23-25th, 2012 families will flock to a large gymnasium overflowing with bargains not to be found at any mall or retail store on upscale kids/teen clothing, shoes, toys, baby equipment, nursery/juvenile furniture, kid's room decor, nursing/maternity wear and more. This kid's consignment sale is the only one in the metro St. Louis area to host a full charity sale Dollar Dash in conjunction with it's sale event. This year they have moved this full charity sale day to Sunday, March 25th from 10am-2pm in lieu of the past events held on Monday to increase accessibility for working moms/dads. During this special portion of the sale, items not previously sold that weekend will be drastically reduced in price with 100% of the proceeds being donated to Missouri Special Olympics. The Recycled Treasures LLC Dollar Dash event is a great way to allow families who are struggling to pay their bills the ability to purchase items that would normally be out of their budget for just pennies on the dollar!
In times of economic hardship, this small business realizes that many non-profit charitable donations have been negatively impacted and wanted to give back in a big way, so this sale event they are supporting two additional charities along with the Missouri Special Olympics. Any unsold items at the conclusion of the Dollar Dash sale will be donated to Our Lady's Inn St. Louis/Twice Blessed Resale a metro St. Louis shelter for pregnant women and women with children in crisis. In addition, a Wish List Drive for St. Louis Crisis Nursery will be conducted through out the sale weekend. Those who donate two or more items off the Wish List will be allowed to shop consignor presale hours on they day they bring in their donations. St. Louis Crisis Nursery has become a cornerstone in the fight against child abuse and neglect and provides temporary care to children ages birth-12 years. All three charities are phenomenal and this sale event Recycled Treasures LLC, is setting a goal for at least half of it's consignors, shoppers, volunteers to support one, two or all three of the charities chosen in it's CHARITY CHALLENGE. Donate unsold items to the Dollar Dash and/or Our Lady's Inn, bring in items off the St. Louis Crisis Nursery Wish List, or simply shop the Dollar Dash all three activities help those in need within the St. Louis Metropolitan Community .
The sale in March is the 7th in a series of successful events for Recycled Treasures LLC. The Spring /Summer event 2012 will be held at Barat Academy, located at 17815 Wild Horse Creek Road, Chesterfield, MO 63005. Recycled Treasures LLC owner's are four mom's who have shopped and sold resale for years themselves and strive to have events that cater to shoppers and sellers. Sale's were first held in St. Charles County in 2009 and after relocating their events to West St. Louis County in 2010 they tripled their consignor and shopper base.
Potential consignors should keep in mind that this is not a garage sale, so items need to be in gently used to like new condition but there is potential to earn up to 75% of their selling price. Shoppers can expect not only to save big on Dollar Dash Day but also through out the entire sale weekend. Most shoppers save anywhere from 65% -90% off the original retail store price of items they purchase. With prices this low it is no surprise that families travel from as far away as Hannibal, Missouri and Belleville, Illinois to shop and consign with Recycled Treasures LLC. Sale savvy moms and dads line up prior to sale doors opening with everyone eager for their chance to shop and get those items they want or need before they sell.
The vendor portion of this event features local small businesses offering unique/boutique items. Many items sold in this feature shopping area are one of a kind and all are family friendly. Vendors are handpicked by the owner's of Recycled Treasures LLC and none sell the same thing offering a large variety of items to shop. The vendor area at this consignment sale is like no other in the area as a result of the planning that goes into organizing this portion of the event.
While Recycled Treasures LLC is not the only children's consignment sale in the area, it is certainly one that stands out in a crowd particularly in their charitable efforts within the communities their events are held. The philanthropic aspect to their events coupled with their ability to make events shopper/seller friendly are a unique combination that is second to none. Shoppers can expect free admission to the event, wide stroller friendly aisles, indoor line space to wait prior to the sale floor doors opening, and will be most pleased to find some of the lowest prices on name brand teen/kid/ maternity/nursing items. Consignors will love the fact that they create their own personal inventory, name their own prices, are paid 70-75% of their selling price, are able to see which of their items sold online at the conclusion of each sale day and are not required to sort their unsold items at pick up or put their own items on the sale floor at drop off. Recycled Treasures LLC Spring/Summer Event is so special even the Easter Bunny will be shopping a day or two to purchase some great items before the Easter Holiday.
###