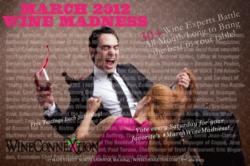 Everyone has a favorite wine and a reason why they like it
North Andover, MA (PRWEB) February 28, 2012
"Everyone has a favorite wine and a reason why they like it, said Wine Director of The Wine Connextion Sam Messina, a high-end wine store located in North Andover, Massachusetts. This simple notion was the idea behind the store's newest promotion "March Wine Madness," in which the store culled together 30+ media personalities, chefs, restaurateurs and sommeliers as "players" endorsing their favorite bottle of wine under $25.
Throughout the month of March customers are encouraged to peruse the aisles of the Wine Connextion and learn more about their favorite March Wine Madness "player's" wine choice and why they chose it.
From reasons why certain bottles may pair with a food, to memories that created a relationship with the wine, customers will find plenty of reasons to support one of the "players" and agree or disagree by attending and tasting these selections at one of the free wine tastings offered each Saturday throughout the month. Beyond the weekly tastings, each day of the month a new tweet will be posted explaining why it was chosen. Customers can get in on the action on twitter using the hashtag #MarchWineMadness.
"People can vote, learn, or even talk smack if they'd like and then come in for one of our free wine tastings held every Saturday to see if their player and their wine choice makes it to the finals," said Tina Messina, Business Manager of the Wine Connextion.
There will be preliminary tastings held every Saturday in March from 12:00PM to 5:00PM beginning March 10th, 2012. Each week guests will taste 10 player's wines and vote on their three favorites! The top three weekly wines will make it to the final tasting round on Saturday, March 31st, 2012, when one bottle (and one player) from the nine finalists will be crowned the "March Wine Madness" champion!
Join the Wine ConneXtion in this fun taste-off with some of the area's greatest wine connoisseurs!
WHERE: The Wine ConneXtion, 117 Main Street in North Andover, MA
WHEN:
Preliminary Tastings:
Saturday, March 10th, 2012 from 12:00PM to 5:00PM
Saturday, March 17th, 2012 from 12:00PM to 5:00PM
Saturday, March 24th, 2012 from 12:00PM to 5:00PM
Final Tasting: Saturday, March 31st, 2012 from 12:00PM to 5:00PM
COST: Free. Guests must be 21 years of age or older.
THE PLAYERS: Jenny Johnson, Executive Producer/ Co-Host of NECN's TV Diner; Joe Faro, Owner of Tuscan Kitchen; Catherine Walkey, Owner of Blue on Highland; Scott Kearnan, Editorial Director at STUFF Magazine; Jamie Coelho, Associate Editor at Rhode Island Monthly magazine and The Dish local food newsletter; Tony Bettencourt, Chef/ Owner of 62 Restaurant & Wine Bar; Andrew Rimas, Editor at Improper Bostonian; Dan Henn, Wine Sommelier of Davio's Northern Italian Steakhouse – Boston; Jay Foster, Beverage Director of C.S. Post 390 Restaurant; Eric Eastman, General Manager of BOKX 109 American Prime; Jennifer Mueller, Celebrity Chef; Billy Costa, Co-Host of NECN's TV Diner and Co-Host of "Matty In the Morning" on KISS 108FM; Chef Brian Poe, Executive Chef of Poe's Kitchen at the Rattlesnake; Chef Lydia Shire, Culinary Director of Towne Stove and Spirits and Chef/Owner of Scampo; Bruno Marini, General Manager & Wine Director of Strega Waterfront; Nicholas Daddona, Certified Sommelier of Les Zygomates Wine Bar & Bistro; Jason Bond, Executive Chef of Bondir; Bre Garcia Dale, Education Director at the Boston Center for Adult Education; Jonathon Alsop, Boston Wine School; Tom Grella, Executive Chef and Co-owner of Prelude Restaurant; Cecilia Rait, Co-Proprietor of Beacon Hill Hotel & Bistro; Jennifer L. Ziskin, Wine Director and General Manager of La Morra; Matthew Morello of Brasserie 28; Richard Auffrey, The Passionate Foodie Blog; Bertil Jean-Chronberg, General Manager and Sommelier of The Beehive; Mary Edes, General Manager of Coppa, Jose Duarte, Chef/Owner of Taranta Restaurant; Paul Turano, Chef/Owner of Tryst Restaurant; Eric Bogardus, Executive Chef Petit Robert Central; Erwin Ramos, Chef Ole Restaurant Group.
About The Wine ConneXtion:
The Wine ConneXtion offers customers a unique and innovative wine-purchasing experience at the First & Main Marketplace in North Andover, Massachusetts. The store offers "eXcellent wines at eXceptional prices" by providing the best wines in their categories with a no-fuss environment. With features like the Tasting Station, encouraging customers to taste and learn about the distinguishing features of wine before buying, the store marries innovative store design and technology with a long tradition of knowledge and experience. The result is our ability to select an assortment of quality wines at great prices and pass those savings onto our mainstream consumers and wine enthusiasts all over Massachusetts and beyond. The Wine ConneXtion is located at 117 Main Street, North Andover, MA 01845 and hours of operation are Monday - Friday: 10am - 7pm, Saturday: 9am - 7pm and Sunday: Noon - 6pm. To reach the Wine ConneXtion directly please call (toll-free) 877-469-5025.
###