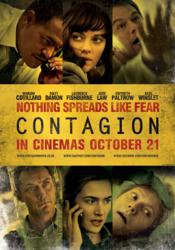 We really hope people take advantage of our great prices, our pre order facility gives customer the advantage to make sure they get a great deal on the films they have been waiting for.
(PRWEB UK) 28 February 2012
Contagion, Warner Bros hit movie of 2011, directed by Steven Soderberch topped the US box office in its opening weekend at cinemas across the US. At its close, the film proudly boast $135,458,097 (£85,482,353.72 UK) total worldwide Box Office earnings. Jam packed with an all-star cast including former Oscar winners Matt Damon, Kate Winslet and Gwyneth Paltrow and former Oscar nominees Jude Law and Laurence Fishburne. Director Soderberch an Oscar winner himself may be remembered for Directing Erin Brockovich and Ocean's Eleven.
This gripping thriller tells the story of a race to contain a deadly virus that is threatening the whole planet. Contagion does the 'viral outbreak' sub-genre proud, taking a much different approach to its predecessors. This film is full of atmosphere, unpredictable and is a thrill to watch. The breakdown of society is frighteningly depicted by Soderberch.
Empire Magazine described the film as "This virus isn't concocted in some laboratory by whitecoats playing God, or some vile corporation looking to weaponise microbes; as Fishburne's character notes in one scene, "Someone doesn't have to weaponise bird flu — the birds are doing that." In other words, nature does a good enough job of killing humans without humans needing to mess with nature."
Achieving 4 out of 5 starts from Empire Magazine Review, summing up this great film, for those whom havent seen the film, this description from Empire may change your mind, 'A starkly effective ensemble drama which could well do for the sniffles what Jaws did for great whites.'
Contagion is now available to Pre Order from Bee.com, fans of the film have the choice to pre order this great film on DVD or Blu Ray at really great prices. Head of IT for Bee.com Peter Black says "We have seen before that allowing the fans of feature films such as Harry Potter and Lord of the Rings, pre ordering assures they will receive there copy of the film they want"
With prices from only £13.99 on DVD and £16.99 on Blu Ray customers can enjoy this great film and buy other cheap dvds online with bee.com. With DVDs from £1.99, Bee.com is an excellent choice for boosting up your film collection and keeping costs down. Bee.com is an online retailer based in Preston, Lancashire. With both retail outlets across the UK and an ecommerce store to buy cheap dvds and Blu Rays, Bee.com offer some of the most competitively priced films on the net.
###