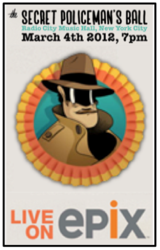 "Social TV is the future, and we're excited to partner with forward-thinking companies like EPIX to bring the next generation of television to their viewers," says Ajay Shah, TVplus CEO and Co-Founder
Los Angeles, CA (PRWEB) February 28, 2012
Social television leader,TVplus, announces today that it has been chosen by cable television partner, EPIX, to create the groundbreaking social television experience for at-home viewers of the Amnesty International Secret Policeman's Ball. The Secret Policeman's Ball is scheduled for March 4th, 2012 at New York's Radio City Music Hall and will celebrate Amnesty International's fiftieth anniversary. Some of the world's most popular comedy and musical entertainers, such as Coldplay, Jon Stewart, Stephen Colbert, Mumford & Sons, Russell Brand, and Reggie Watts are scheduled to perform at Radio City in celebration of the historic evening.
In partnership with EPIX, the TVplus application will power the second screen experience for at-home television viewers, providing the opportunity for the audience to have real-time access to informative interactive content about the evening's performers as well as the history and mission of Amnesty International. Viewers will receive a wide variety of content related to the Secret Policeman's Ball, including celebrity news, videos, photo galleries, music, celebrity quotes, event Twitter activity, and much more.
Viewers of the event can enjoy the dual screen experience on their iPad by downloading the TVplus App, or on their Laptop by visiting TVplus.com on show night. The event will be presented LIVE on EPIX and streamed on EPIXHD.com and via EPIX apps on Xbox and Roku.
"Never before have at-home viewers had an opportunity to connect so deeply with a LIVE musical and comedy event of this kind," said Keary Hanan, VP of Editorial and Executive Editor. "We're excited to partner with TVplus to offer this second screen experience to our viewers, and further highlight the mission of Amnesty International."
TVplus is the only social technology company with LIVE event publishing capabilities on the second screen, and has previously powered social television experiences for such events as the 2011 Emmy Awards, and the inaugural season of 'The X Factor' on FOX.
"With each LIVE activation, we see more and more about how dynamic the viewing experience becomes when there is the additional interactive layer," says TVplus CEO and Co-Founder Ajay Shah. "Social TV is the future, and we're excited to partner with forward-thinking companies like EPIX to bring the next generation of television to their viewers."
About TVplus:
TVplus is an award-winning social technology company that delivers rich, interactive experiences around television for the Second Screen. The TVplus platform provides partners an end-to-end solution for creating engaging content for their audience at scale, offering greater connection opportunities for networks, content creators, and brand advertisers. TVplus has created activations for The X Factor and the Emmy Awards. In 2011, the company was named the "Best New Idea" from CableLabs, and at the Social TV Summit. For Media Inquiries, contact Matthew Duffy, matt@tvplus.com
About EPIX
EPIX, a joint venture between Viacom Inc. (NASDAQ: VIA and VIA.B), its Paramount Pictures unit, Metro-Goldwyn-Mayer Studios Inc. (MGM) and Lionsgate (NYSE: LGF), is a premium entertainment service available on television, video-on-demand, online and on consumer electronic devices. With access to more than 15,000 motion pictures spanning the vast libraries of its partners and other studios, EPIX provides a powerful entertainment experience with more feature films on demand and online and more HD movies than any other service. It is the only premium service providing its entire monthly line-up of new Hollywood hits, classic feature films, documentaries and original concerts, comedy and sporting events on all platforms. EPIX has made the commitment to deliver the industry's most expansive online collection of movies, making more than 3,000 titles available to authenticated subscribers on EpixHD.com and on hundreds of devices including Xbox 360 consoles, Android™ tablets and mobile phones, Roku® players, Samsung® Smart TVs and Blu-ray™ players and more. EPIX is available to over 30 million homes nationwide through distribution partners including Charter Communications, Cox Communications, DISH Network, Mediacom Communications, NCTC, Suddenlink Communications and Verizon FiOS.
For more information about EPIX, go to http://www.EpixHD.com. Follow EPIX on Twitter @EpixHD and on Facebook http://www.facebook.com/EpixHD.
###