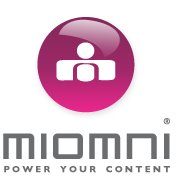 Mike Venner Miomni CEO said "It's of paramount importance that Miomni stay ahead of the demand for connected TV Channels by expanding its development capability"
(PRWEB UK) 28 February 2012
Miomni is proud to announce expansion in its Connected TV development department. Connected or Smart TV is rapidly expanding industry space and Miomni is a leading provider of Channel solutions for a number of large broadcasters as well as some niche content providers.
With some truly amazing figures to back up this global expansion in the Connected TV platform Miomni Ltd have taken the decission to expand is capability to meet the increasing demand.
Global - 2014 - 54% of flat-panel TVs shipped globally (148.3m units) in 2014 will have Internet connectivity and services. (CE research company iSuppli)
Samsung says that 17% of its TVs shipped in 2010 have an Internet connection and that this figure will jump to 70% by 2014.
In the USA by 2014 - 57m US broadband households will be viewing full-length online video on TV. (In-Stat) by 2015 - More than 43m US homes will have at least one connected TV by 2015. This represents 37.1% of the USA's current 115.9m TV households. (Forrester Research)
In Europe between 2009 and 2014 - European households with a connected TV will grow from less than 4m in 2009 to 47m in 2014. (Parks Associates) Between 2010 and 2015 - The number of households with a connected Blu-ray player will jump from 5m in 2010 to 66m in 2014. (Parks Associates)
In Germany 36% of TV sets sold in Germany in the first half of 2010 were connected TVs. (Solon Management Consultancy) in 2015 - 61% of German households will have a connected TV. (Gold Media)
In 2006 Miomni became the first Company to receive Intel keystone Certification for 10 foot UI design and build.
Since 2007 Miomni has delivered channels across Connect/Smart TV for the likes of Arsenal FC, Coolroom movies, Universal Studios, BBC, Vodafone, Paddy Power, Fishing TV, Sainsbury's and Paramount Pictures to name a few.
Since 2009 Miomni has made strategic technical partnerships with Yahoo, Samsung, Toshiba, Sony, Panasonic, Phillips, IBM and Google.
Miomni now develops Native Apps for all of the Connected/Smart TV Electronic Program Guides(EPG), App stores and Widgets.
For further information about Miomni Ltd, please contact:
Head Office: Angel House, Angel Mews London N1 9HH - Tel: +44 (0) 207 837 1116
US Office: Miomni Corporation, 800 West El Camino Real, Suite 180, Mountain View, CA94040 - Tel: +1 (650) 903 2269
Email: info(at)miomni(dot)com
Web: http://www.miomni.com
Notes to Editors:
About Miomni Ltd (http://www.miomni.com)
With offices in London and the US, Miomni provides a multi-platform digital media solution delivering user Interface, high quality video content, Interactive applications and e-commerce, to multiple platforms with full advertising capabilities.
Miomni uses a proprietary content & asset management system. Incorporating a single integrated database for "over the top" global digital video delivery.
Miomni also has the advantage of in-house creative services for advanced multi-platform User Interface (UI) design and User Experience (UX) navigation solutions, covering all viewing experiences.
"lean back" (10ft - Connected TV with remote)
"lean forward (2ft - PC with mouse and keyboard)
"hand held" (1ft - touch screen mobile or tablet)
###