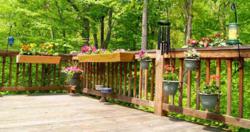 This product is in line with our mission of being the most helpful hardware store on the planet
Asheville, North Carolina (PRWEB) February 28, 2012
Blue Ridge Bracket Company is pleased to be working with Ace Hardware to feature their Rockit brand flower pot holders and bird feeder hangers in Ace hardware stores. They see it as an opportunity to reach new consumers with a unique and innovative gardening product. All Rockit brand brackets connect to 10 different size pickets, making them ideal for anyone with a deck, patio or wrought iron balcony.
Blue Ridge Bracket Company CEO Trent Van Dyke believes that the ability to connect to wood, wrought iron, vinyl, aluminum and composite put Rockit brand brackets in a class by themselves. He says, "With our wrought iron adapters, we give passionate gardeners who have been previously inhibited by location, a chance to once again enjoy their hobbies." Trent elaborates by saying that renters as well as people with balconies can finally add planters, bird feeders flower pots and almost any decoration imaginable to their patios and balconies without having to worry about damage.
With Rockit brand, someone can completely change the aesthetic of their outdoor sanctuary in seconds. This is due to Rockit brand's best feature: the ability to be installed and moved in seconds with no tools or clamps. Originally, Terry Reno designed the rail rockit, pot rockit, and rockit hanger simply for gardening and birding purposes, but was astonished to see some of the practical ways that consumers have used his invention. Trent Van Dyke says that when he shows the Rockit brand brackets to people they say, "Why didn't I think of that?" Trent continues, "When I see how our customers are using our brackets in different ways, I say the same thing, 'Why didn't I think of that?'" Trent sees people use their brackets for container gardening, herb gardening, elevated pet dishes, wine buckets and many other things.
The 10 inch pot rockit and 18 inch rockit hanger will be featured in the May Ace Hardware circular. Karmina Van Le, Director of marketing and advertising for Rocky Mountain Ace Stores, an organization that does regional advertising for Ace Hardware says "Your product is unique and perfect for our consumers to customize their outdoor living space." She continues, "Rockit brand brackets solve a problem that was previously ignored. This product is in line with our mission of being the most helpful hardware store on the planet." Blue Ridge Bracket Company is pleased to be working with Ace Hardware, a company that won JD Power's best in class customer service award for the fifth year in a row. One thing that sets BRBC apart from competitors is their ongoing commitment to customers, so they are excited to work with a company like Rocky Mountain Ace Hardware, whose record speaks for itself.
Blue Ridge Bracket Company is based in Asheville, North Carolina and carries products for gardening, birding and seasonal decorating. Blue Ridge Bracket Company ships to hundreds of garden centers, wild bird stores, and hardware stores across the United States and Canada. For more information on Blue Ridge Bracket Company or their products, please visit http://justrockit.com. You can also contact Trent Van Dyke at (828) 242-8577 or by mail at Blue Ridge Bracket Company 40 Wendover Road Asheville, North Carolina 28806.
###