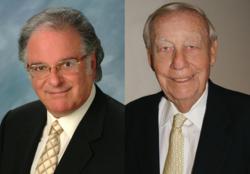 Miami, FL (PRWEB) February 29, 2012
WPBT2, presented William F. Koch, Jr. and Herbert A. Tobin with Lifetime Service Awards as part of the program for WPBT2's An Evening with Jim Lehrer. Koch was presented the award on February 22 at the Kravis Center for Performing Arts and Tobin was presented the award on February 23 at the Coral Gables Country Club.
William "Bill" F. Koch, Jr. has been on the WPBT Board for 27 years, serving as Board Chair in 1990. Koch came to Florida in 1927. He is a graduate of Rollins College, serves as Mayor of the Town of Gulf Stream, and is the longest serving Mayor in the State of Florida with over 40 years of continuous service.
Koch has been a Director of Bethesda Health Care and Bethesda Memorial Hospital for 50 years. He is a past Director and past Chairman of the Executive Committee of SunBank of South Florida and past Director of SunBank of Florida (Orlando). Koch is a former President and Director of the Delray Beach Chamber of Commerce and is involved in many professional, civic, and charitable activities.
Herbert A. Tobin began serving on the WPBT Board in 1995, following his father's service on the Board. Tobin served as WPBT Board Chair for four years - the longest of anyone in that role. In recognition of the Tobin family's record of leadership and support over three generations, Herb and the Ben Tobin Foundation were honored by PBS with the 2009 Public Television Leadership Award.
Tobin is Chairman and CEO of Tobin Properties and Chairman of the Board of The Ben Tobin Foundation. He received his B.S.B.A. from the University of Denver. He is Past Chairman and Vice Chairman of Union Bank of Florida; Chairman of the Board, Valor Foundation; and Director of UNICO Properties in Seattle, Washington. Herb served for ten years as Mayor of Golden Beach, Florida.
ABOUT WPBT2
South Florida's premier public broadcaster, WPBT2, is a community-licensed, not-for-profit media enterprise serving communities from the Treasure Coast to the Florida Keys. WPBT2 provides high quality content from PBS, independent acquisitions and its own original productions. WPBT2's digital media platform offers: 2HD, a 24-hour high definition channel; Digital 2.2, a mix of Science & Nature Channel, Culturas, The Florida Channel and Create; Digital 2.3, V-me, a 24-hour national Spanish-language network.. The WPBT2 website, http://www.wpbt2.org,, includes Impromp2 (a community blog), and uVu, a video sharing website.
###